By Bob Shell
Review of the Crimson Trace Laser Grips on a Ruger P89DC in 9mm.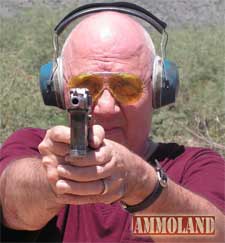 Apache Junction, AZ –-(Ammoland.com)- A friend of mine called me a few weeks ago and told me that his wife finally gave in and was letting him buy the 50 caliber Smith & Wesson he had been wanting, but he had to sell one of his old guns because he had too many guns!
Is there such a thing as too many guns?
Anyway, he asked me if I wanted to buy his Ruger P89DC 9 mm, it's kind of strange the way things happen because I had been thinking about buying a home defense gun that my wife could handle.
I live in the country and there is very little crime out here but there was a home invasion less than a mile from me a few months ago and I refuse to be a victim and I will not let my wife become a victim.
I have a fully loaded Remington 870 next to my bed but she shot it once and doesn't like it because of the recoil.
This Ruger P89DC would be great for her because it wasn't too big and it had good knock down power with the correct ammo. The thing I like the most was there was no safety's for her to remember or fumble with all she had to do was aim and pull the trigger and the Ruger has a de-cocking lever so you can safely un-cock the gun with a live round in the chamber. If someone breaks in the last thing is you need is to worry about releasing a safety. That is especially true with people who don't handle a lot of guns.
Yes everyone should be trained but let's face it. Most non gun people tend to overlook the importance of training. That is why when I train someone I prefer a revolver. It is simple to use and learn and is ready in an instant. A burglar doesn't call ahead and inform the home owner that it is their turn to be robbed. They have the element of surprise so that 9 mm with the Crimson Trace Laser Grips is a good option.
Ruger P89DC with Crimson Trace Laser Grips
Well he gave me a good deal and threw in a bunch of ammo so I bought it. I took my wife back in the woods to teach her how to safely handle and shoot the gun. I hit a problem as she lacked experience with this type of gun. She was having a problem learning how to line up the sights and I thought of a way to make a great gun even better so I ordered a set of Crimson Trace Laser Grips and the problem was solved. I am familiar with Crimson Trace Laser Grips and have heard many great reviews so I knew I made the right choice. They were easy to install 2 screws and 10 minutes and the gun was ready. I attached the safety labels on the gun and explained to her about the dangers of making contact with the human eye with a laser and we were ready to sight it in.
I decided to sight in the Ruger and shoot a few groups before I turned it over to my wife. That way she wouldn't have any issues with the point of impact. After a few rounds, I realized that unbelievably it didn't need any adjustments although with the tools and instructions you receive with the grips it would have been easy. The laser sight is adjustable for elevation and windage.
I shot 3 – 3 shot groups, 1 from 7 yards, 1 from 15 yards and the last from 25 yards and I was very pleased with accuracy, and I did this during the day. It was a little overcast but it was still bright outside and I was amazed at how bright the laser was and how well it showed up on target. The red grips work well in most lighting conditions especially in a dark setting. In bright sunlight they are not effective but you shouldn't need them under those circumstances.
Most break-ins are indoors under less then bright conditions. If a criminal sees a red dot on his chest, he will surrender if he has half a brain. In that instance, it may not be necessary to shoot him but merely hold him for the cops.
I went over again the safe way to handle a firearm with my wife and showed her how to use the Crimson Trace Laser Grips and the proper way to hold and aim the Ruger and after about 10 rounds, she was grouping in the second ring of the target. My son showed up and he did a little better than her as he got a few hits dead center.
Crimson Trace Laser Grips
The nice thing about the Crimson Trace grips is they are easy to use. You just pick up the gun and when you grip it the beam automatically comes on. You don't have to worry about a switch to activate it as you have enough on your mind if some breaks in your house. If for some reason, you store the gun there is an off switch. I have grips on some of my guns that have been on there for 2 or 3 years and the batteries are still good and I never shut them off. I have a set of green sights and they work fine and they have been on the gun for over 2 years. For more info on CT products you can go to https://www.crimsontrace.com/products-landing/type/lasergrips.
As this would be intruder will attest facing my wife with her Ruger P89 Pistol equipped with Crimson Trace Laser Grips is a no win situation and I believe this is a great home defense combo for both my wife and I. For info on the Ruger used and other Ruger products go to https://www.ruger.com/index.html.
Currently it is important for homeowners to step up and protect themselves and the people they care for. In states where it is not allowed the legislature is the criminal along with the burglars as they are part of the problem rather than the solution. If new people go shooting with an experienced person, they will quickly find out that shooting is fun.
Every new shooter should get trained at least in the basics and when to and not to shoot and other legal issues that may crop up durring self defense.
Crimson Trace Laser Grips Resources:
Crimson Trace Laser Grips Owners Guide
About Bob Shell
A Custom Reloader of Obsolete and Antique Ammo, Bob Shell, writes about the subject of Guns, Ammo, Shooting and Related Subjects. Visit: www.bobshellsblog.blogspot.com