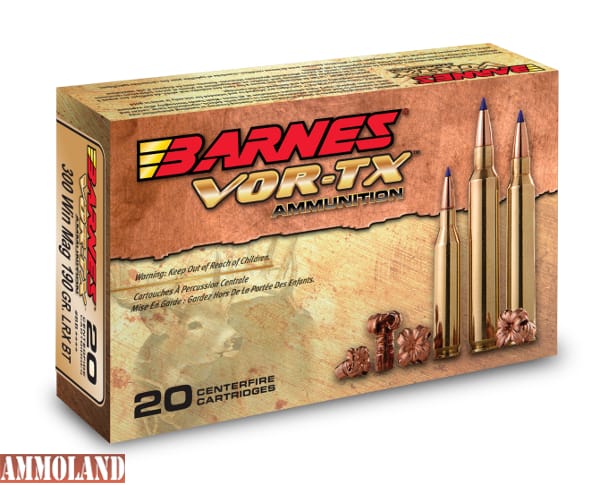 Mona, UT -(AmmoLand.com)- Barnes Bullets, LLC ("Barnes") the leader in bullet innovation and performance, is adding three loads to the VOR-TX ammunition lineup and new 300AAC Blackout and 450 Bushmaster components for handloaders.
The VOR-TX line extensions will bring three new loads to the Barnes VOR-TX family – A 308 Win. load featuring the proven 130 grain TTSX bullet, a 300 Winchester Magnum load with a new 190 grain LRX bullet, optimized for long range performance, and finally, a 35 Whelen load featuring the field-proven Barnes TTSX 200 grain projectile.
For handloaders, Barnes will now offer the 300 AAC BLK 120 grain TAC-TX BT bullet, previously only available in VOR-TX ammunition. Also available for the first time, Barnes will offer a 275 grain TSX FB bullet specifically designed for 450 Bushmaster platforms.
Both of these components offer the discerning handloader the opportunity to fine-tune and optimize their 300 AAC Blackout and 450 Bushmaster ammunition.
About Barnes Ammunition:
Barnes Ammunition products are purpose-built for precision shooters, America's military elite and top-tier law enforcement communities. For the discriminating shooter who demands products that are uncompromising in performance and quality, we bring our relentless pursuit of innovative design, exacting manufacturing, and leading-edge testing capabilities. Follow Barnes on Facebook or their Blog.
Visit www.barnesbullets.com for more information.