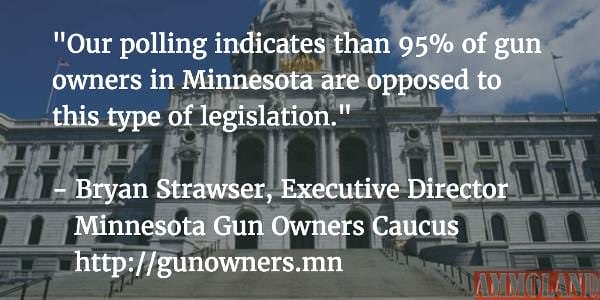 Saint Paul, MN -(AmmoLand.com)- As I write this email, Michael Bloomberg's "Everytown" and "Moms Demand Action" gun control groups are at the Minnesota State Capitol, holding a press conference with Senator Ron Latz and Representative Dan Schoen introducing a new "comprehensive gun safety bill" (their words).
The bill isn't a gun safety bill, it's a gun control bill. Even worse, it's a gun owner registration bill.
The bill, online as of a few minutes ago as Senate File 2493, would require any purchase or transfer of a firearm to take place at a federal firearms license holder, i.e. a gun shop.
This is nothing short of universal registration – which is exactly what the anti-gunners want.
Bills like this were the subject of extensive hearings in 2013 and soundly defeated. In fact, it was this sort of gun control that Minnesota voters rejected strongly at the polls in November 2014, leading to a Pro-Second Amendment majority in the Minnesota House. We've already been in touch with our legislative allies this morning in Saint Paul – and with your help, we're going to stop this bill in its tracks.
We just published this press release a few minutes ago. You can read it online on our website via this link.
Can you take ten minutes today and do the following to help us kill this bill right now?
None of this would be possible without your support. Now's the time to call and email your Senator and Representative and let them know you oppose this sort of extreme gun control.
About Minnesota Gun Owners Caucus:
The Minnesota Gun Owners Caucus is a non-partisan, single-issue Minnesota nonprofit advocacy organization dedicated to the full restoration of firearms freedoms in Minnesota. The Caucus is a IRS recognized 501(c)(4) organization.
Learn more at http://gunowners.mn.