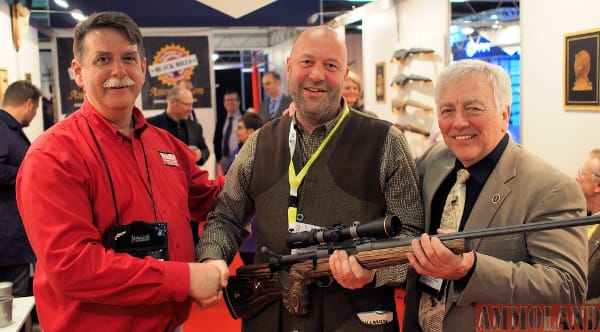 Tualatin, OR -(AmmoLand.com)- In 2016 Warne Scope Mounts is celebrating our 25th anniversary. During our recent trip to the IWA Show in Germany we gave away a rifle via a drawing for our International customers.
Everyone attending our Anniversary bash was encouraged to drop a card in the drawing box for their chance to win a range certified Weatherby Vanguard in 30.06 Springfield. The rifle features a fluted barrel and bolt, GRS Sporter/Varmint stock with a Leupold VXR 4-12×40 CDS scope.
The rifle is topped off with Warne Maxima rings and bases, and a tactical grey Cerakote finish. The winning card was drawn at random on Friday, March 4th in the Warne IWA show booth. The winner of this Weatherby Vanguard is Torben Moller from Mercia Outdoor ApS in Denmark. Congratulations Torben, we know you will put this great rifle to use.
We thank all of our industry partners for making our 25th Anniversary a hit, and advise you to stay tuned; we'll be giving away more rifles and other goods throughout the year.
About Warne Scope Mounts:
Celebrating our 25th Anniversary in 2016, Warne Scope Mounts has been supplying world class Made in the USA optic mounts to the shooting industry since 1991. A leading innovator and manufacturer of scope mounting systems, WARNE is positioned to supply its branded products worldwide through distribution and dealerships, as well as servicing the industry as a major OEM supplier. Isn't it time you "SET YOUR SIGHTS ON WARNE"?
For more information, visit: www.warnescopemounts.com.