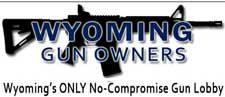 Cheyenne, WY -(Ammoland.com)- HB-86 passed the House with a super majority vote of 50-10.
And this was because of overwhelming support from gun owners across the state demanding the Repeal of Gun Free Zones. But unlike the House, Senate Leadership insisted on holding it back from a floor vote.
It wasn't for a lack of time. It was a deliberate move by the Senate to keep the bill from advancing.
The Senate is controlled by a radically anti-gun leadership who has consistently killed pro-gun legislation for 5 years running. And how does "Leadership" get into the position of power? It's by secret ballot of a majority vote.
This secret parliamentary procedure is kept on the books to ensure they can game the system by keeping you in the dark.
And wouldn't you know it's this same "majority" who — just last year — voted to substitute a 3 page bill to Repeal Gun Free Zones – with a 14 page gun control bill.
Remember I've been telling you that if the Senate continues on the same path, that it would bring opportunities in the 2016 Primaries in August.
So here we are…
Following is the list in the Senate Republican Majority who voted against repeal of gun free zones last year. In bold and with *** — Term expires — up for re-election this year.
Ogden Driskill SD1 Devil's Tower
Tony Ross SD4 Cheyenne ***
Fred Emerich SD5 Cheyenne
Wayne Johnson SD6 Cheyenne ***
Stephan Pappas SD7 Cheyenne
Phil Nicholas SD10 President Laramie ***
Stan Cooper SD14 Kemmerer ***
Hank Coe SD18 Chairman Cody ***
Ray Peterson SD19 Cowly
Gerald Geis SD20 Worland ***
Bruce Burns SD21 Sheridan
Jeff Wasserbuger SD23 Gillette
Michael Von Flatern SD24 Gillette ***
Bill Landen SD27 Casper
James Lee Anderson SD28 Casper ***
Drew Perkins SD29 Majority Whip Casper
Charles Scott SD30 Casper ***
There are ONLY four Democrats in the Senate, and they also voted against repeal of gun free zones last year:
Floyd Esquibel SD8 Cheyenne ***
Chris Rothfuss SD9 Laramie
John Hastert SD13 Green River
Bernadine Craft SD12 Rock Springs ***
Two Republican were appointed to vacant seats — after last year's vote in 2015. Both are up for election and will receive WyGO's gun rights candidate survey.
Brian Boner SD2 Douglas

Dave Kinskey SD22 Sheridan
These Senators are desperately hoping that you'll forget about the bills that WyGO has spent five years working on and that the Senate has killed, and support them with open arms when they ask for your vote during their re-election efforts in August.
Don't fall for it.
The Wyoming Senate Republicans continue clinging to failed gun free zone policies like those in San Bernardino, CA, where a "vetted" government employee gunned down innocent victims — in a gun free zone.
By contrast, neighboring Utah has allowed carry by ordinary citizens in so-called sensitive areas (Gov Buildings, Schools and Colleges) for almost two decades.
Wyoming's Senate is more like California's…
California's State Senate is controlled by 26 Democrats, Wyoming by 26 Republicans and Utah by 24 Republicans. California's Senate Democrats publicly demand more gun control.
The majority of Wyoming Republican Senators say they are pro-gun on the campaign trail, but once safely in office, act no different than their California counterparts.
In many States, the anti-gun politicians have a problem because they know what happens to their anti-gun colleagues during elections. But in so-called conservative Wyoming, most voters don't even know how their Senator votes.
Enough is enough! It's time change Wyoming's uninformed voter status.
While WyGO is positioned to make an impact — it can only happen with increased financial support.
I'm counting on your immediate help…
Please find three or more friends and family members who will join WyGO for just $25 Today.
For Freedom,

Anthony Bouchard
Executive Director
Wyoming Gun Owners
About Wyoming Gun Owners:
Wyoming Gun Owners is a not-for-profit issue advocacy organization that is on a deliberate mission to protect and defend the Second Amendment. Contributions to WyGO are unlimited and are used to expose politicians who treat your rights with contempt. Contributions to WyGO are not deductible as charitable contributions for tax purposes.
For more information, please visit www.WyomingGunOwners.org.