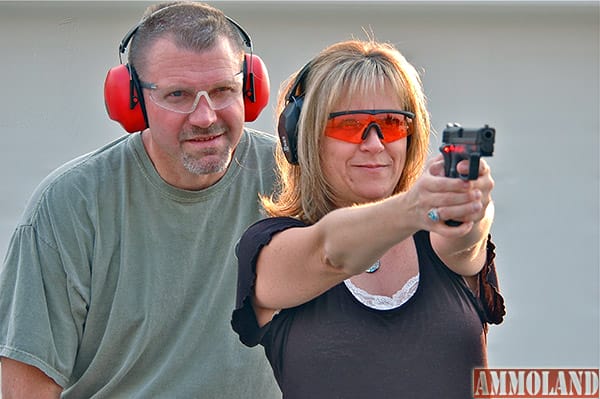 Wilsonville, OR -(AmmoLand.com)- Crimson Trace, America's leader in making laser sights standard equipment on all self-defense firearms, encourages all gun owners, and those who carry concealed firearms, to be prepared.
One important step in being well prepared for life-threatening situations is to practice—and become accurate. Practice with a firearm—and with a purpose—should improve the shooter's proficiency. Accurately shooting a firearm is an acquired skill that improves with proper training. Using a Crimson Trace laser sight installed on the firearm offers many benefits when practicing and training.
One obstacle of training is knowing how much—or little—the firearm moves and results in missed shots or large shot placement groups on the target. Numerous factors can cause misses—and a common culprit is shooter control of the firearm. The good news is that the best end to guessing how much a firearm moves when—or before—being shot is to install a Crimson Trace laser sight. Having a laser sight installed on any firearm gives instant feedback to the shooter during practice because the visible down range red or green dot on the target is easy to see—and understand if it moves.
The wavering laser dot on the target is easy to note, can reveal if the shooter is anticipating recoil and pushing a handgun to the side or down, or if there's movement caused by improper trigger pull. Instructors and coaches can also see this movement-equals-a-miss problem, and it's why more and more coaches and firearms instructors are now adding Crimson Trace laser sights to their training curriculum. In fact, some firearms courses—like Gunsight Academy's 250 w/ laser course and some firearms courses offered by the National Rifle Association—now prominently include the use of laser sights.
Crimson Trace works closely with firearms instructors across America in their mission to help students/shooters improve their accuracy—and safety. Shooters who practice on their own can also find tips on training with laser sights on the Crimson Trace website (www.crimsontrace.com). Covered topics include: enhanced trigger control; simplifying sight alignment; developing confidence; mastering the machine and others. More details can also be discovered on the company's free DVD: The Laser's Edge that is also available via the website.
Finding a place to practice is easy. Visit the National Shooting Sports Foundation's www.wheretoshoot.org website for detailed information on thousands of gun ranges across America. Many state game departments also offer public gun ranges that are free or available at a nominal cost.
Practice often, and practice correctly, to improve preparedness, accuracy and survival.
Crimson Trace is widely recognized as the world's leading brand of laser sight systems and tactical lights for firearms. The company offers more green laser sights for firearms than the rest of the firearms accessory industry combined.
Full details on the 200-plus Crimson Trace products, and the Oregon headquartered company, can be obtained by visiting www.crimsontrace.com or by calling 800-442-2406.
ABOUT CRIMSON TRACE:
Crimson Trace, based in Wilsonville Oregon, is the acknowledged world leader for laser sighting systems and tactical lighting for firearms. The company offers more than 200 products and its award-winning innovations include: LiNQ, Lasergrips, Laserguard, Laserguard Pro, Master Series and Lightguard  –all with Instinctive Activation. The company's product line also includes theDefender Series and Rail Master platforms. Crimson Trace proudly serves civilian, law enforcement and military markets around the globe.
More details are available at www.crimsontrace.com or by calling 800-442-2406.