Now Available in a Red/White Variable Power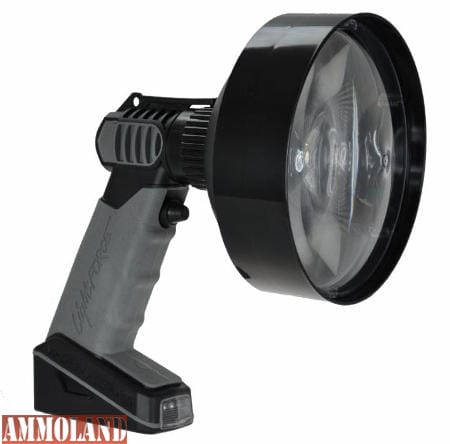 Adelaide, SA -(AmmoLand.com)- Lightforce, the company that set the standard for brightness, durability and quality in performance lighting, has brought its 35 years of illumination experience to the handheld format with the introduction of the 140 Enforcer red/white variable power.
Compact and versatile, the 140 Enforcer is perfect for both outdoor adventures and search/rescue missions.
Whether you're tracking a harvest, hunting at night for hogs or predators, setting up camp in the dark or launching a search effort – the list of uses for the 140 Enforcer is endless, and this handheld light will exceed both your needs and your expectations.
Lightforce cut its teeth in the Outback of Australia, an area known for its remote, rugged and often dangerous terrain – a place where a quality light can mean the difference between life and death. Tested to withstand the harshest conditions the Outback could throw at it; the 140 Enforcer is ready to answer your call.
The Lightforce – 140 Enforcer Handheld Light effectively lights up your target with either a white or red light. Simply flip the toggle switch with your thumb to change back and forth between a high-intensity red or white light. The specially designed lens produces a superior tight beam for maximum light output and performance for most night situations. Its built-in battery has a run time of over 4 hours, and you can even attach the clip-on Enforcer battery to produce a run time of up to 22.5 hours. This flexibility makes the 140 Enforcer ideal for all applications. Additionally, the built-in battery indicator will help reassure you this light will still be going strong until you are ready to go home.
Features:
Fresnal lens combined with built-in focusing mechanism allows user to adjust beam from a WIDE pattern to a long distance SPOT
Built-in 4-hour, long-life battery with LED charge indicator
Maximum charge time of 2.5 hours
Cordless operation
Additional portable battery and charging options available
Models include: LED White or LED White & Red Variable Power
Specifications:
Lightweight at only 450 grams/15.87 ounces
IP65 ingress protected – sealed from rain and dust
Gore Protective Vent to protect against moisture and contaminant ingress
Light output: 376m/411yd @1 Lux
3-year warranty
For more information about the Lightforce 140 Enforcer, please visit www.lightforce.com.
About LIGHTFORCE:
With more than 25 years experience, LIGHTFORCE is a global leader in portable professional lighting systems as well as driving lights, rifle-scope optics and lighting accessories. Unlike our competitors, we are pioneering the use of modern composite and eco-friendly materials. This not only gives us a clear competitive advantage, but has also earned us a number of prestigious Australian and international design awards. We continue to see growth in customer loyalty and confidence around the world.
For more information, please visit www.LIGHTFORCE.com.