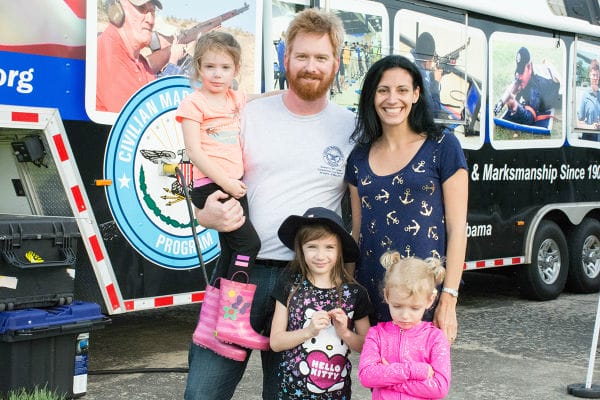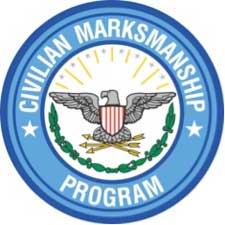 Camp Butner, NC -(AmmoLand.com)- The 2016 Eastern CMP Games celebrated a decade of rifle and pistol competitions at its 10th Anniversary event – held April 29 through May 3 at the Camp Butner National Guard Facility.
Nearly 400 competitors arrived at this year's event in North Carolina, welcoming fresh faces as well as those who have been loyal to the event throughout the course of its history.
Sam Hartsock and Bill Aten are just two of 14 competitors who have competed at every Eastern Games since its existence. The men fired together this year during the Vintage Sniper Match, and they reminisced about their first experiences of Camp Butner and the Eastern CMP Games.
"I had the time to come here, and it wasn't that far away, so I decided to check it out," explained Sam, 57, of Mansfield, OH, who has been shooting CMP events since 1996. "To me, this is the best facility to come shoot these matches. The ranges are well thought out, you've got a place to stay, the target system is enjoyable – it's nice to have a berm to see the impacts."
He also credits the match itself, as well as his wife, Carolina, who was unable to make it to this year's event but has been a prevalent figure each year he has traveled to Camp Butner.
"We appreciate how the CMP runs rifle events. It's very well organized, things run very smooth, good volunteer service," he said. "And I'd like to thank my wife for all of her support over the years. I really wanted her to come here again this year."
Bill Aten, 64, of Kingwood, TX, brought his wife the first year he traveled to Eastern Games. The two treated it like a trial vacation at first, but now, traveling to the match has become an annual tradition.
"I like shooting the old guns, and we don't have a lot of opportunities to do that around Texas," Bill said. "I've made a lot of friends here throughout the years – it's good to see friends that I don't see or talk to but once or twice a year."

"And I get to see the CMP staff," he added as he smiled.
Doug Armstrong, 56, of Lexington, NC, has also participated in all 10 Eastern Games and in that time has won a countless number of matches – continuing that streak at this year's event. He and his partner won the Vintage Sniper Match, with the help of Armstrong's unbelievable score of 200-15x. He was also named the Overall winner of the Vintage Military match, where he fired a gas trap M1, hand-built by CMP volunteer Andy Sherrer.
"It shot, really, pretty well," Armstrong said. "I had to do a little Kentucky windage to readjust at one point, but it was a lot of fun. I've never even held a gas trap, let alone shot a gas trap, so that was cool. Probably once in my entire life will I get to do that."
A member of the Marine Corps Rifle team in 1986, Doug has seen his fair share of ranges. But, he says, one thing that keeps him coming back to the Eastern Games year after year is the opportunity to fire on the challenging and enticing 600-yard range at Butner.
"This place is really, really nice," he said. "And the wind can be treacherous here, so it's going to teach you how to shoot in the wind. National champions shoot here – a lot can be learned from the people here. It's the Camp Perry 'East,' kind of. It's a fun place."
As the Eastern Games has grown over the years, so have the competitors within it – just ask Brett Saltsman. Brett, 33, of Spring, TX, has been coming to the Eastern Games since 2009, with his wife, Caroline. In 2011, the couple brought their first baby girl, Natalia, followed by the addition of two more young ladies, Caterina and Anastasia, over the years. The Saltsmans now make the event a family affair –possibly stirring the interest of the next generation at Camp Butner.
But talented junior marksmen are already cultivating their talents at Eastern Games, including Ryan Ward and MaKayla Rider, who both earned the High Junior award and Overall win in the Rimfire Sporter O-Class and T-Class, respectively. Ward was also the High Junior in the .22 Rimfire Pistol and the Pistol EIC matches as well as the Springfield Match.
Robert Hudson II, 20, of Halifax, VA, gave outstanding performances in the Garand and Vintage Military Matches – earning the High Junior honor in both. He also nabbed the title in the Three Gun and Four Gun Aggregate competition.
Jonathan Shue, 34, of Stafford, VA, made himself known as well by overtaking the bulk of the pistol events – winning the As-Issued 1911 and Military & Police Service Pistol matches for the second year in a row, along with the Pistol EIC Match. He also teamed up with Thomas Willats, 53, of Potomac, MD, to overtake the Pistol Team Match.
Christopher Roberts, 43, of Charlotte, NC, cleaned up the rest of the pistol events by taking the top spot in both the .22 Rimfire and 40 Shot Pistol matches, as David Thompson, 54, of Keyser, WV, proved to be the big winner on the rifle side of the events – winning the Springfield Match and both the Three Gun and Four Gun Aggregate competition.
Other Winners at the 2016 Eastern Games:
M16 EIC Rifle: Mike Speary – 389-12x
High Junior: Gary Vincent – 365-4x
As-Issued 1911 Pistol: Jonathan Shue – 383-8x
High Senior: Lynn Shoffner – 349-5x
Military & Police Service Pistol: Jonathan Shue – 379-9x
High Senior: Jerry Kittrell – 354-8x
.22 Rimfire Pistol EIC: Christopher Roberts – 279-7x
High Junior: Ryan Ward – 244-5x
40 Shot Pistol: Christopher Roberts – 370-12x
Pistol EIC: Jonathan Shue – 290-8x
High Senior: Lynn Shoffner – 259-4x
High Junior: Ryan Ward – 242-1x
Pistol Team: Shue and Willats (Jonathan Shue and Thomas Willats) – 552-12x; Shue was also the High Individual (286-10x).
:Rimfire Sporter
O-Class: Ryan Ward (High Junior) – 586-18x
High Senior: Don Moore – 584-25x
High Woman: Erin Willis – 552-7x
T-Class: MaKayla Rider (High Junior, High Woman) – 598-39x
High Senior: Donald Schedler – 585-27x
Tactical: Bill Ellis – 587-19x
Carbine: Scott Moore – 383-6x
High Senior: Bill Fairless – 365-4x
High Grand Senior: Daniel Slanker – 303-2x
Garand: Mike Speary – 289-4x
High Junior: Robert Hudson II – 280-5x
High Senior: Leonard Lapato – 280-4x
Springfield: David Thompson – 295-8x
High Junior: Ryan Ward – 282-2x
High Senior: Bill Fairless – 285-6x
High Grand Senior: Franco Scarpino – 284-6x
Vintage Military: Doug Armstrong – 289-5x
High Junior: Robert Hudson II – 269-1x
High Senior: Donald Schedler – 285-5x
High Grand Senior: Gilbert Holm – 275-2x
Modern Military: Daniel Fiora (High Senior) – 293-8x
High Junior: Nicholas Simonetti – 276-4x
High Grand Senior: Franco Scarpino – 278-3x
Three Gun Aggregate: David Thompson – 860-18x
High Senior: Donald Schedler – 842-10x
High Junior: Robert Hudson II – 824-9x
Four Gun Aggregate: David Thompson – 1152-27x
High Junior: Robert Hudson II – 824-9x
High Senior: Bill Fairless – 1116-20x
Vintage Sniper Team: Armstrong & Clowdis (Doug Armstrong and Kenneth Clowdis) – 399-24x; Armstrong was the leading individual competitor (200-15x).
The CMP would like to extend a genuine thank you to SFC Vicky Johnson and the North Carolina National Guard for providing enormous support to the Eastern Games during all 10 years of its run. As a thank you to SFC Johnson, the CMP has placed an 8×8" paver at Talladega Marksmanship Park in her honor.
For a complete list of 2016 Eastern Games results, visit our Competition Tracker page: https://ct.thecmp.org/app/v1/index.php?do=match&task=edit&match=13678.
Photos of the event can be viewed online and downloaded for free at www.cmp1.zenfolio.com.
About the Civilian Marksmanship Program:
The Civilian Marksmanship Program is a federally chartered 501 (c) (3) non-profit corporation. It is dedicated to firearm safety and marksmanship training and to the promotion of marksmanship competition for citizens of the United States.
For more information about the CMP and its programs, log onto www.TheCMP.org.