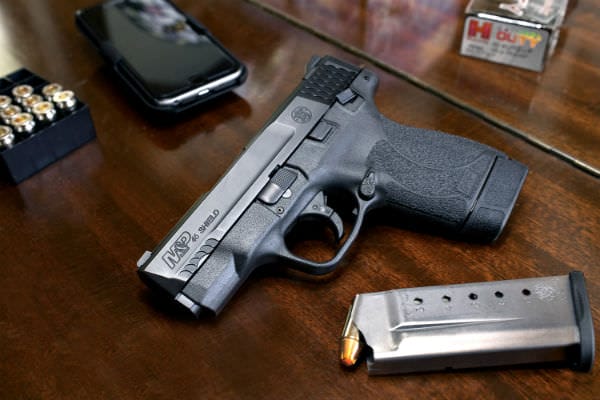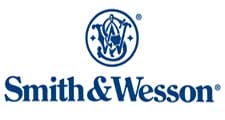 Springfield, MA -(AmmoLand.com)- Smith & Wesson Corp. announced today that it is now offering its popular M&P Shield pistol in .45 AUTO.
Smith & Wesson's M&P45 Shield is a slim, concealable, lightweight, striker-fired polymer pistol.
From its one-inch profile to its optimized 18-degree grip angle, the M&P45 Shield offers professional-grade features that provide consumers and professionals with reliable performance and simple operation in a concealed carry. 45 AUTO firearm. Whether deployed as a backup sidearm for law enforcement personnel, a deep concealment pistol for plain-clothes officers or a personal protection firearm for consumers, the M&P45 Shield can be carried comfortably and confidently, all day.
Jan Mladek, General Manager of the M&P Brand, said, "Our new M&P45 Shield takes personal protection to the next level by offering all the M&P features our customers have come to trust, combined with .45 caliber power. Well over 1Million consumers and professionals have chosen to 'Shield themselves' with the slim, concealable and powerful M&P Shield pistol. The new M&P Shield in .45 AUTO provides that extra level of confidence."
Available for the first time in .45 AUTO, the M&P45 Shield features a slim design combined with the proven and trusted features found in the M&P Pistol Series. At 6.45 inches long, the M&P45 Shield is standard with a 3.3 inch stainless-steel barrel. On the left side of the frame, the pistol is fitted with familiar operational controls including a simple takedown lever, flat profile slide stop, and magazine release. For optimal firearm control, the M&P45 Shield is standard with an 18-degree grip angle, aggressive grip texture and front cocking serrations. The pistol is available with or without a thumb safety, and an extended trigger guard allows for operation with or without gloves. The striker –fired M&P Shield is highly regarded for its crisp trigger and quick and audible reset.
M&P45 Shield Highlighted Features:
Lightweight, unloaded weight of less than 20.5 ounces
Slim, .99-inch frame width
Compact and concealable with 6.45-inch overall length
Aggressive grip texture
Front cocking serrations
Armornite durable corrosion resistant finish
Includes 2 magazines, 6 and 7 round capacity
The M&P45 Shield model has an MSRP of $479 and is sold with a limited warranty and a lifetime service policy.
To see the M&P45 Shield in action, please visit www.smith-wesson.com/mpshield.
For more information on Smith & Wesson's M&P family of products, including the complete line of M&P Shield pistols, please visit www.smith-wesson.com.
About Smith & Wesson:
Smith & Wesson Holding Corporation (NASDAQ Global Select: SWHC) is a leading provider of quality products for the shooting and outdoor enthusiast, delivering a broad portfolio of quality firearms and hunting and shooting accessories, to the global consumer and professional markets. The company's firearms division brands include Smith & Wesson, M&P, and Thompson/Center Arms. As a leading provider of shooting, reloading, gunsmithing, and gun cleaning supplies, the company's accessories division produces innovative, high-quality products under several brands, including Caldwell Shooting Supplies, Wheeler Engineering, Tipton Gun Cleaning Supplies, Frankford Arsenal Reloading Tools, Lockdown Vault Accessories, and Hooyman Premium Tree Saws. The company's manufacturing services division provides forging, machining, and precision plastic service for outside businesses. Smith & Wesson facilities are located in Massachusetts, Maine, Connecticut, and Missouri.
For more information on Smith & Wesson, call (800) 331-0852 or log on to www.smith-wesson.com.