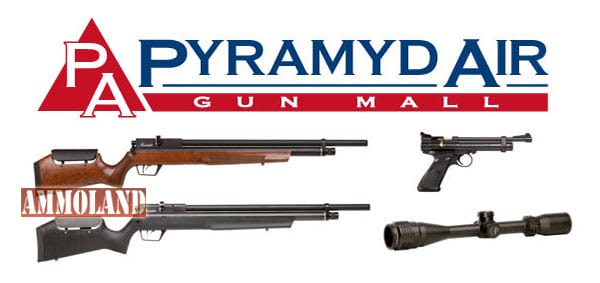 Cleveland, OH -(AmmoLand.com)- May, 2016 marks the 20th anniversary of Pyramyd Air. The world's largest internet airgun retailer celebrates its growth from a basement operation of three people in 1996, into a multi-million-dollar company employing more than 60 people.
Twenty years after purchasing his first shipment of air rifles from England, Pyramyd Air CEO, Joshua Ungier recalls the struggles of
entrepreneurship.
"In order to expand I needed a lot more money, so naturally I went to the bank seeking a loan. When I told the bank manager what I needed the money for he simply stared at me. At that point I knew it was futile and I would need to find a different way."
Ungier approached his wife, and after borrowing from her, he outgrew his basement and moved to a small warehouse.
"Within a few years I moved to a larger warehouse, then another. Twenty years and 60,000 square feet later, we're a far cry from my basement," he said.

"Building an environment that provides good lives for my people and their families has been an honor," says Ungier. "We celebrate together, we mourn together and we play together, but above all we value the voice of our customers and strive to provide them with superior customer service, provocative products, and a staff of experts that provide a resource of knowledge that is second to none regarding every single product we carry."

When asked what the next 20 years will bring, Ungier adds, "I assure you, you'll be in for more exciting products, more fun and definitely more surprises."
For additional information visit PyramydAir.com, or contact Marketing Manager, Kristen Coss by email: [email protected], or phone: 888-262-4867 ext. 253, or reach Media Contact, Laura Evans by email: [email protected] .
For up-to-date news and information from Pyramyd Air, sign up for email updates by visiting PyramydAir.com and clicking the "Subscribe" link on the left side on the home page.
For the latest news from Pyramyd Air, follow us on Twitter at twitter.com/PyramydAir and Facebook facebook.com/PyramydAirCom.
About Pyramyd Air:
Pyramyd Air sells airguns, accessories and ammo from AirForce Airguns, Air Arms, Air Venturi, Beeman, Benjamin, Beretta, Browning, BSA, Colt, Crosman, Daisy, Eun Jin, Evanix, Feinwerkbau (FWB), Gamo, Hammerli, Heckler & Koch (HK), Magnum Research, Makarov, Marksman, Mendoza, Remington, Ruger, RWS Diana, Sam Yang, Sheridan, Smith & Wesson (S&W), Sumatra, Stoeger, Tanfoglio, Umarex, Walther, Webley, Weihrauch, Winchester and others. Pyramyd Air provides professional product videos from Airgun Reporter Paul Capello and a daily blog, Pyramyd Air Report, written by Tom Gaylord, a.k.a. B.B. Pelletier, a world-renowned airgun writer, expert and consultant. They also provide instructional videos on Airgun Academy and airsoft videos located here on their website.
For more information, please visit www.PyramydAir.com.