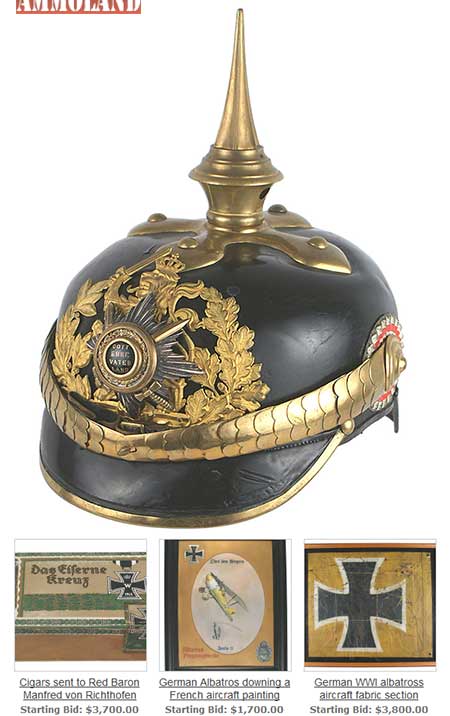 Bouckville, N.Y –  -(Ammoland.com)- The auction is being held online as well as at Mohawk Arms' gallery, located in Bouckville, N.Y.
Items pertaining to (and even signed by) the legendary German World War I flying ace Baron Manfred von Richtofen, known as 'The Red Baron' – are just part of Mohawk Arms' Auction #75, a catalog and internet auction packed with over 1,300 lots of militaria encompassing multiple conflicts and generations. The sale will be held June 3rd and 4th.
The sale's full catalog will be available for viewing soon, at www.MilitaryRelics.com and at the online bidding platform LiveAuctioneers.com. Bidders can also attend the event live, at Mohawk Arms' Bouckville gallery, located on Route 20 in central New York state, not far from I-90 and I-91. Whether participating in person or online, bidders will be treated to a wide array of items.
Offered will be Imperial German helmets, a collection of World War I aviation badges (Prussian, Austrian, Bulgarian and others), autographs and photos, World War II German medals and edged weapons, headgear, uniforms, U.S. Civil War items, British medals, Imperial Austrian headgear and uniforms, U.S. World Wars I and II medals, combat gear, books, stamps, posters and more.
The Baron von Richtofen items will include a Christmas 1917 gift box of cigars sent to the flying ace with a large Iron Cross on the lid and with 16 of the original cigars still inside (all with gold bands showing Iron Crosses and oak leaves. An accompanying letter from an official at the cigar company tells von Richtofen "and the members of your famous squadron" to enjoy the cigars. A receipt signed by von Richtofen himself is also included. The box has a minimum bid of $3,700.
Another item signed by the fighter ace is an autographed card with a clear and unfaded specimen of von Richtofen's signature. It is framed up, with his Sanke Card number 533, and comes with a certificate of authenticity by the German military autograph expert Stefan Koerlin. Measuring 11 ¾ inches by 6 ½ inches and professionally framed and matted, the lot's minimum bid is $3,000.
Also sold will be an exquisite purple enameled cigarette case, presented by von Richtofen to Werner Voss, a member of Germany's World War I elite group of aces, on the occasion of his being awarded a "Pour le Merite" (meritorious service). The case has several jewelers hallmarks, is dated "8-4-1917" and shows von Richtofen's engraved signature. The minimum bid is $3,000.
A strong candidate for top lot of the sale will be the black Nazi Luftwaffe Panzer uniform of Lt. Gen. Wilhelm Schmalz, commander of Herman Goring's feared Fallschimpanzerkorps. Goring's name is even embroidered into the black wool waist-length tunic. The lot has a minimum bid of $28,000. It comes with nine photo albums; six photos show Schmalz wearing this very uniform.
Also expected to do well is a World War I-era presentation Saxon Garde Reiter regiment dress helmet with a three-dimensional silvered lion mounted on a large oval silvered plate affixed to the top. The inside of the helmet is stamped "G.H. Osang, Dresden 1915." A slot opening on the helmet's back suggests it may have been used to collect donations. The minimum bid is $12,000.
An early 17th century set of armor, probably American Colonial and featuring a Cromwellian "lobster"-style helmet and Curaissier-style waist-length chest and back armor, mounted on a 19th century wood mannequin with an old russet leather jerkin and two period belts, has a minimum bid of $6,500. Included are old soiled trousers, knee-high boots and a period Flemish-style saber.
A circa 1680-1700 Polish-Saxon partisan (shafted weapon of the period, having as a head a long spear blade with a pair of curved lobes at the base) has a minimum bid of $1,700. The 8-inch, double-edged wavy blade emanates from a two-headed crowned eagle, with extended wings and "cut-out" portions of the body. The overall length, including tapered iron sleeve, is 16 ½ inches.
An Imperial German World War I fighter pilot's "pokol" (or silvered victory goblet), showing an embossed panel of two eagles in combat, 7 inches tall, has a minimum bid of $7,500. The area below the eagles' panel is engraved with the fighter ace's name: "Otto Esswein, 15-11-1917." Esswein was credited with 12 aerial victories. He also received the Golden Military Merit Cross.
A detailed painting of a World War I German Albatross plane downing a French aircraft, titled Ehre den Siegern and artist-signed "J. Hippel '17," has a minimum bid of $1,700. Hippel has portrayed the German aircraft in a side view, climbing above the flaming French plane. The painting is mounted in an attractive black frame and measures about 20 inches by 16 ¼ inches.
Speaking of the Albatross, the pride of Germany's World War I flying combat corps, an original section of fabric from an Albatross plane from that era will be sold and has a minimum bid of $3,800. The yellow painted canvas-type material, 29 ¾ inches by 24 inches, features an 18 ¼ inch by 18 inch black Iron Cross with a white border. It is professionally mounted and framed.
Also sold will be German helmets, to include a Prussian General's parade helmet with feather bush and a Hessian General staff officer's helmet; a German World War I presentation dagger, from Bruno Loerzer to Herman Goring; a black SS-VT German "Deutschland" uniform named to Knights Cross recipient Fritz Witt; and other items, in a wide array of collecting categories.
Previews will be held at the Mohawk Arms gallery, located on Route 20 in Bouckville, every Monday through Friday leading up to June 3rd, from 9-6 (EDT), and on sale days (June 3rd-4th), from 8-9 a.m. The first gavel will come down both days at 9:30 a.m. A buyer's premium, which can range from 16-22 percent, depending on the final price, will be applied to all purchases.
Mohawk Arms, Inc., is always accepting quality consignments for future auctions. To consign a single item, a collection or an entire estate, you may call them at (315) 893-7888; or, you can e-mail them at [email protected] To learn more about Mohawk Arms and Auction #75, which is online soon and will conclude June 3rd and 4th, please log on to www.MilitaryRelics.com.