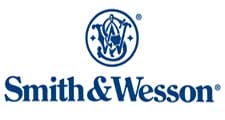 Springfield, MA -(AmmoLand.com)- Smith & Wesson Corp. announced today that it has added a new model to the company's line of M&P polymer pistols with the introduction of the M&P22 Compact pistol in durable Cerakote Flat Dark Earth (FDE) frame finish.
Engineered to professional standards, this tactical rimfire pistol incorporates a variety of features inherent to the design of the full size M&P centerfire pistol in a smaller scale version. The American-made M&P22 Compact .22 LR pistol delivers M&P accuracy and reliability in a fun-to-shoot, compact profile.
"This new M&P22 Compact model sports a desirable Cerakote flat dark earth frame finish. The Cerakote polymer-ceramic-composite coating on the frame provides a durable finish and enhances the appearance of this popular M&P22 rimfire pistol," said Jan Mladek, General Manager of the M&P Brand. "Target shooters and recreational shooting enthusiasts will appreciate having a new finish option in this compact, two-tone finished M&P .22 LR semi-automatic pistol."
Designed to be 15% smaller than the full-size M&P 9/40, the M&P22 Compact pistol is lightweight, comfortable in the hand and conveniently carried. Like its centerfire sibling, the M&P22 Compact pistol accommodates the needs of both left and right-handed shooters with its ambidextrous manual safety and reversible magazine release. Its Picatinny-style accessory rail underneath the barrel easily accommodates after-market lights and laser sights when using in various light conditions and sporting activities. This pistol is suppressor ready and is standard with a 1/2 inch x 28 threaded barrel with muzzle cap for easy accessorizing. Shooters of all experience levels will appreciate the crisp, trigger pull with reset which makes shooting the M&P22 Compact FDE pistol accurate, easy and fun.
The M&P22 Compact FDE pistol has an MSRP of $429 and ships complete with two 10-round capacity magazines.
For more information on the new M&P22 Compact pistol and its accessories, visit www.smith-wesson.com/mp22compact.
M&P22 Compact FDE Specifications:
Barrel Length: 3.56"
Overall Length: 7.25"
Overall Width: 1.48"
Overall Height: 5.03"
Weight: 15.3 oz.
Barrel Material: Carbon Steel
Slide Material: Aluminum Alloy
Frame Material: Polymer
Frame Finish: Cerakote-FDE
Front Sight: White Dot
Rear Sight: White 2-Dot – Screw Adjustable for Windage & Elevation
Capacity: 10+1
About Smith & Wesson:
Smith & Wesson Holding Corporation (NASDAQ Global Select: SWHC) is a leading provider of quality products for the shooting and outdoor enthusiast, delivering a broad portfolio of quality firearms and hunting and shooting accessories, to the global consumer and professional markets. The company's firearms division brands include Smith & Wesson, M&P, and Thompson/Center Arms. As a leading provider of shooting, reloading, gunsmithing, and gun cleaning supplies, the company's accessories division produces innovative, high-quality products under several brands, including Caldwell Shooting Supplies, Wheeler Engineering, Tipton Gun Cleaning Supplies, Frankford Arsenal Reloading Tools, Lockdown Vault Accessories, and Hooyman Premium Tree Saws. The company's manufacturing services division provides forging, machining, and precision plastic service for outside businesses. Smith & Wesson facilities are located in Massachusetts, Maine, Connecticut, and Missouri.
For more information on Smith & Wesson, call (800) 331-0852 or log on to www.smith-wesson.com.