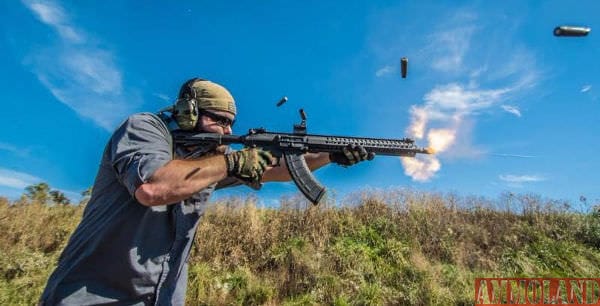 Fayette, MO -(AmmoLand.com)- CMMG proudly accepted Tactical Gun of the Year from American Rifleman for the Mk47 MUTANT at the NRA Annual Meetings and Events in Louisville, Kentucky on May 20.
"On behalf of everyone at CMMG, we are extremely honored by this recognition," Jeff Overstreet, co-owner of CMMG, said. "To be awarded Tactical Gun of the Year by the NRA's American Rifleman magazine means a lot to our company, and most importantly, to all of our employees who worked tirelessly on this project."
CMMG's Mk47 MUTANT functioned flawlessly in testing and was praised by the publication as "pleasant to shoot". Built around the 7.62x39mm caliber, the MUTANT features a shortened AR-10-sized bolt carrier group that is paired with a unique upper and lower receiver to minimize weight and increase ergonomics. One of the primary benefits of the Mk47 design is its ability to accept existing AK magazines and drums.
After thorough review and testing by the foremost rifle experts in the industry, the Mk47 MUTANT has earned a solid reputation as the ultimate mid-sized AR rifle.
For more information on the Mk47 Mutant, visit www.cmmginc.com.
CMMG Lifetime Quality Guarantee
CMMG, Inc. will guarantee its products against defects in material or workmanship. CMMG, Inc. will repair, replace or substitute part(s) (at CMMG, Inc. discretion) at no charge to the customer if a defect of material or workmanship is found. All service work must be carried out by CMMG, Inc. The warranty applies to the original purchaser and a copy of the invoice or proof of purchase must be provided when submitting for service or work.
About CMMG:
CMMG began in central Missouri in 2002 and quickly developed into a full-time business because of its group of knowledgeable and passionate firearms enthusiasts committed to quality and service. Its reputation was built on attention to detail, cutting edge innovation and the superior craftsmanship that comes from sourcing all their own parts. By offering high quality AR rifles, parts and accessories, CMMG's commitment to top-quality products and professional service is as deep today as it was when it began.
For more information visit: www.cmmginc.com.