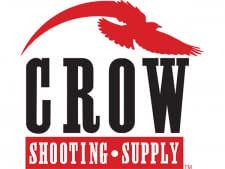 Montezuma, IA –-(Ammoland.com)- Crow Shooting Supply is proud to announce it now carries the entire line of ELEY .22LR ammunition, used by world-class competition shooters in all disciplines, including at the Olympic Games.
In addition to well-known competition loads like ELEY tenex, ELEY biathlon and ELEY match, Crow will also carry all of ELEY's general purpose rounds. One example is ELEY force, a high-energy cartridge made specifically for .22LR semi-automatics. Another is ELEY high velocity hollow, a hunting round designed for maximum performance on small game.
"We're committed to bringing the best products possible to our wholesale customers," said Crow Shooting Supply Founder Steve Crow. "It makes a lot of sense for us to add a company like ELEY, with such a long tradition of making top-notch ammunition for both serious competitors and recreational shooters."
By distributing through Crow Shooting Supply, ELEY is expanding its footprint in the United States.
"ELEY has established itself as a worldwide leader in the .22 LR market and has seen amazing growth within the United States," said Mike Corkish, North America Sales Manager for ELEY. "An important part of that growth is the partnership with Crow Shooting Supply. I am very excited to partner with Crow Shooting Supply to bring the most accurate, reliable and premium .22 LR offerings to the demanding shooter."
To see the entire line of ELEY ammunition, visit the Crow Shooting Supply website.
About ELEY
Producing ammunition since 1828, ELEY is dedicated to supplying the world with the most accurate .22LR ammunition available. With its innovative technologies, ELEY was the .22LR ammo of choice for 14 out of 18 London Olympic Medalists and has already been used to set 3 World Records in 2016. ELEY is also dedicated to using these technologies in developing multiple products for the semi-auto shooter, small game hunter, and the recreational shooter.
About Crow Shooting Supply
Crow Shooting Supply is a family-owned national wholesale distributor of firearms, ammunition reloading components and shooting accessories. Proudly serving retail gun shops, major sporting goods stores, gun clubs, shooting ranges and government agencies for 30 years, Crow is a full-line supplier of more than 120 of the world's premier shooting industry manufacturers. For more information, or to inquire about partnering with Crow Shooting Supply, call 800-264-2493 or visit www.crowshootingsupply.com.