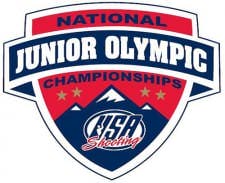 USA–-(Ammoland.com)- Before Wednesday, Travis Old and Emily Underwood were just a couple 19-year-olds looking to find themselves in this sport. After Wednesday, upon the conclusion of the Trap competition for the 2016 National Junior Olympic Shooting Championships, consider them found.
In garnering their biggest sport accomplishment to date, Old (Texarkana, Texas) was nearly flawless in his performance while Underwood (Quitman, Arkansas) was almost as good at the International Shooting Park just outside Colorado Springs.
The medal stand for both men and women had a distinct hog flavor Wednesday with Arkansas shooters and influence showcased throughout. The impact that the Arkansas Youth Shooting Sports Program (AYSSP) is having on the shooting sports was on full display Wednesday in Colorado. Developed by the Arkansas Game and Fish Commission, the program has over 6,000 students participating.
Three of their program participants earned hardware at these Junior Olympic Championships with Underwood joined on the podium by 2015 Junior National Champion Grace Hambuchen (Maumelle, Arkansas), who would finish as the silver medalist after falling to Underwood in the gold-medal match, 14-12. Second to Old was 2015 National Championship silver medalist Dustin McGowen (Greenwood, Arkansas). Old, a student at University of Central Arkansas, is coached by former National Team member Kayle Browning (Wooster, Arkansas) and her dad, Assistant National Team Coach, Tommy.
Old got off to a fast start Tuesday and never looked back, firing a perfect 75/75. He missed just four targets in his final two rounds Wednesday. He'd advance to the gold-medal final to face McGowen after a 14/15 semifinal round. Having come that far, he wasn't about to let McGowen take the gold medal he had earned, ensuring as much with a perfect 15 of 15 in the gold-medal faceoff.
"I'm on top of the world," said Old, with an ear-to-ear grin. "It's been a bumpy road getting to this point. I've had some ups and downs, but I've got to say I'm really excited."
Tyler Lirio (Coolidge, Georgia) finished third for the second consecutive year. With the win, Old earned a spot on USA Shooting's National Junior Team. McGowen is already a member of the National Team after a second-place finish at the 2015 USA Shooting National Championships.
Underwood was the top qualifier with a score of 112/125, besting the nearest competitor by three targets. A semifinal best 13/15 advanced her to the gold-medal match to face Hambuchen.
"It's a rush," said Underwood after her win. "It's crazy, actually. This is my fourth year coming here, so it feels good to finally get to this point. Somewhere deep inside I knew a performance like this was there. It was just a matter of when. All my hard work finally came together."
Finishing third for the second consecutive year was Stepanie Gutierrez (Valencia, California). With the win, Underwood earned a spot on USA Shooting's National Junior Team. Hambuchen is already a member of the Junior National Team as the 2015 Junior National Champion. Gutierrez reconfirms her position as a Junior Olympic Squad member.
Winning their age-group categories were Noah Stafford (Thompsons Station, Tennessee) and Faith Pendergrass (Valley Springs, California) for J2 (ages 15-17). In J3 (ages 14 and younger), it was Joey Richards (Hudson, New Hampshire) and 11-year-old Carey Garrison (Crossville, Tennessee), the youngest female competitor in the field.
Competition resumes Friday with the start of Men's and Women's Skeet as well as the one-day match for Men's Double Trap where some exciting action is expected with nine of the top 11 NJOSC finishers from 2015 set to compete. Defending champion Jesse Haynes-Lewis (Nahant, Massachusetts) and National Team members Dale Royer (Jackson, Montana) and McGowen will all likely have a say in the medal hunt. National Junior Team member Hank Garvey (Newburyport, Massachusetts), a 2015 Junior Nationals silver medalist, will also look to emerge among this strong group after being the top junior during Olympic Team Trials.
After a three-year reign as Junior Olympic champion, Dania Vizzi (Odessa, Florida) has officially departed the junior ranks leaving the door open in Women's Skeet. Sixteen-year-old Katie Jacob (Rochester, Michigan) seems the likely candidate to step in given an impressive run since last summer's runner-up finish that led her to being appointed to the National Team recently. She was sixth at the 2015 Junior World Championships, third overall in Fall Selection, earned a World Cup bronze medal in Cyprus in March followed by a Junior World Cup win in Suhl, Germany. Learn more about Jacob's rise in Skeet. Look for Sydney Carson (North Liberty, Indiana), the 2015 World Championships Junior silver medalist, to be contending for top honors as well.
In Men's Skeet, the Keldsen brothers, Isaac and Logan (Walkerton, Indiana), are the top returning medalists from 2015. Likely to contend will also be Aaron Wilson (Lansing, Kansas), a fourth-place finisher in 2015 Fall Selection, as well Junior Team member Trey Wright (Albany, Georgia) and Junior Squad member Garrett Coles (Fannin, Texas).
Competitors qualified for an invitation to the NJOSC with top scores in their respective State Junior Olympic Championships. The competitors range in age from 10 to 20 years old, and are classified according to age as J1 (ages 18-20), J2 (ages 15-17) or J3 (ages 14 and younger).
Athletes earned their way to Junior Olympics by qualifying through state qualifying matches with 21 states conducting competition for 515 participants. Shooters from 31 states are represented at this year's Junior Olympics. The Lone Star State is well-represented with 23 athletes participating from Texas.
2016 NJOSC Schedule
Thursday, June 16 – M/W Skeet & Men's Double Trap OFFICIAL TRAINING
Friday, June 17 – M/W Skeet, 75 targets; Men's Double Trap + Final
Saturday, June 18 – M/W Skeet, 50 targets + Fin