Carl Junction, MO—-(Ammoland.com)- Officially it's called the NRA's 2016 National Action Pistol Championship. Unofficially and more commonly known as the NRA Bianchi Cup, this prestigious action-pistol shooting competition has been the "gold standard" for shooters from around the world since 1979.
Now with 37 years in the history books, the competition brings together some of the world's greatest competitors that are aiming to bring home recognition and awards from this coveted event.
As part of participating in the Bianchi Cup Championship, the team of renowned pistol shooters that make up the Secure Firearm Products (SFP) team definitely left their mark and legacy in the 2016 competition.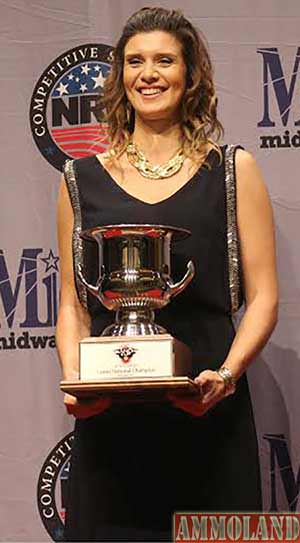 At the top of the awards list was Tiffany Piper, who won her first Bianchi Cup Lady's Championship with a score of 3802 286X. Tiffany has been competing for nearly ten years in the Bianchi Cup Championships, and this year she takes home the top honors and title!
"I cannot thank my sponsors enough for everything they have done for me during my shooting career, says Tiffany Piper. "I have been competing in the Bianchi Cup for nearly 10 years and I have always dreamed of this day when I would win the Woman's division. Congratulations to all of the other women for a great event and all of the other top winners, you all rock!"
Her Dad, Karl Piper was presented with the skirt which is a tradition at many NRA Action pistol matches. He was the first male score after the first lady's score, and hence…wins the skirt! Tiffany even got to slip it on her Pop! Looks like it's not only the girls who wear the skirts in this family.
Other SFP Shooting Team members also competed and placed well in the competition with Mark Itzstein placing 3rd in the Moving Target Event with a score of 480 34X. He was also a finalist in the Colt Championship.
Doug Carden was awarded the Distinguished Medal and Certificate in the Metallic division, which is given out based on number of competitions and shooting scores.
The Secure Firearm Team (Alpha) also competed in and won the top industry award with a combined score of 7384 522X. Team members consisted of Doug Carden, Karl Piper, Travis Hayton, and our stand in Production shooter, Vance Schmid.
"Even though the match was different this year, I couldn't be more proud of my team members for all their hard work, honesty, accomplishments," says Tammy Surgi of Secure Firearm Products. "I want to thank everyone for their conduct and support at the match and for our company. Now we are looking forward to the 2016 NRA World Action Pistol Championship in New Zealand this November!"
Secure Firearm Products is an American-based, family-owned business producing quality shooting products since 2001 that include a host of target/target systems for personal, competitive shooters, law enforcement and the military. For further information about the full line of Secure Firearm Products, go to their website at www.securefirearmproducts.com