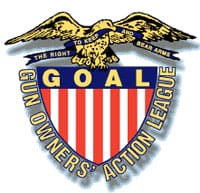 USA–-(Ammoland.com)- We had perfect weather, a great crowd, delicious food, and great opportunity to shoot a bunch of different firearms and forms of firearm competition including IDPA, USPSA, Steel Challenge and more!
The event would not have been possible without a lot of hard work and support!
Thank you to everyone who attended and supported this event, with a huge thank you to all of our volunteers and especially to Hopkinton Sportsmen's Association for hosting, and all of our great sponsors for making the day possible!
Event Sponsors
Swift River Retrievers
Salvadore Auto
Simond & Oakes Auctioneers & Appraisers
Edward George & Associates
Minuteman Armory
Pullman Arms
Saxonville Armory
Berkshire County League of Sportsmen
Worcester County League of Sportsmen
Are You A GOAL Member?
It's not unusual for us to receive phone calls from MA gun owners who are looking for guidance and are not members of GOAL.
Often times they ask "why should I join GOAL?" The answer is simple: "our answering of your phone call and question is made possible by GOAL members".
We are more than just a resource though, we continually work to protect & restore Second Amendment freedom, we support many education efforts including our full training schedule and we proudly represent the interests of all law abiding gun owners.
If you are not a member, please consider joining, you can do so online here: http://goal.org/joingoal.html
Join GOAL – Now More Than Ever!
This e-mail and everything we do is made possible by GOAL Members. If you find information in this e-mail, or anything we do to be helpful, please consider joining, supporting, and/or donating to GOAL.
"Protecting Your Freedom Begins Here"
Why You Should Join GOAL: Every intrusion on our Second Amendment Rights is an intrusion on all rights. The Constitutional rights and freedoms that you enjoy – and may take for granted – are becoming more fragile each day. Secure your rights for yourself, your family and future generations.
Join GOAL and become part of the solution today.