By Jason Reid
Jason Reid lists his pick of the best paper targets for the shooting range.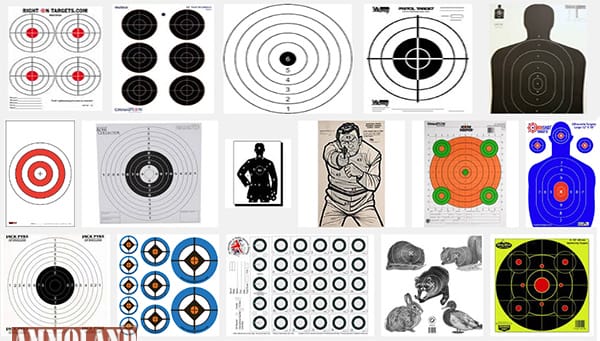 USA –  -(Ammoland.com)- Shooting paper targets is a storied part of the all American experience.
From classic 12 ring targets to learning where to hold on a turkey cut out and having fun at the pistol range shooting at pictures of various objects, animals and even depicted criminals.
Buying paper targets isn't difficult. Many companies offer targets for low cost and can be found easily. But there are some that standout and worth trying for the fun factor alone.
Baker Targets:
Baker Targets offers plenty of fun paper targets. 164 different options to be exact. One target being a depiction of Flying Monkeys. If the Flying Monkey from the Wizard of Oz ever scared you, then this target maker may be for you. Aside from being able to take out old childhood fear on a paper target, this target provides plenty of skill training. Monkey prints range from large to small helping you work on the all important fundamental of shooting "Aim small, miss small." Targets are a dollar per-piece, 25 or more is $0.45 each and 100 or more: $0.28 each. Save even more money by buying Baker Target's great assorted target packs.
Gun Fun Targets:
Is the zombie fad still around? Maybe? If shooting at Zombies is your thing, you will like Gun Fun Target's (gunfun.com) Zombie Target Pack .
Says Gun Fun Targets "I have a son who wanted a pellet gun for his 9th birthday. He got the gun and some targets. Then we got more guns, and I kept finding myself buying more shooting targets. But there's not a lot of choice out there when it comes to targets, and you find yourself shooting the same target over and over again."

"Since we've been in the printing business for 10 years, we decided to design our own targets and make something that's fun to shoot."
Measuring the Zombie Target Pack Target size is 19″ x 24″, there are five zombie themed targets to pick from, including axe weilding Rhonda. Providing six specific shot spots, these targets can be used for fun and practice.
American Educational Products: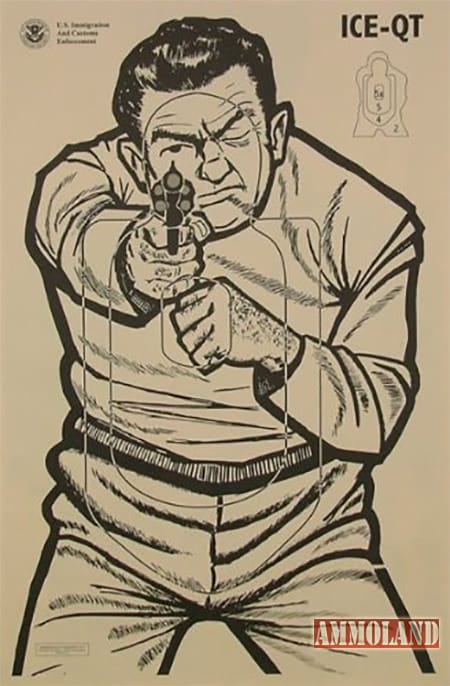 Designed for tactical shooting practice for U.S. Immigration and Customs Enforcement qualification 2009 version is available on 23 x 35 paper stock. Test your skills like our heroes of law enforcement do with this black and white target to be comfortable with your handgun.
"Practice the shot that may one day be the most important one you take. These targets come rolled in a box and ready to go, and you will have plenty to last you for a long time. They are the same type sold at ranges, for a fraction of the price."
At just $0.30 per target the ICE-QT Paper Shooting Targets are a bargain.
Birchwood Casey
The Birchwood Casey EZE-SCORER Paper Targets helps hunters dial in their favorite guns each year for that special opening morning hunt. A simple yet classic design, these targets help shooter dial in quickly and provide confidence of punching holes though the bright red bulls eyes .
"Simple and effective target shooting to sight in your firearms. Targets include space to enter key data including temperature, yardage, make/model, caliber, bullet and much more. Each pack contains a bonus sheet of four 3″ Shoot•N•C targets and ten repair pasters."
Available in 12" and 8" one can choose between the classic black ringed targets and a clear gridded target which is helpful for sighting-in.
Delta McKenzie Paper Targets
Delta McKenzie Targets help archers prepare for the season by providing fun real picture cardboard cutouts to shoot at. If one has not prepared for a real hunting situation by using a 3d target, this is the next best option since it is a fraction of the cost but still helps train the mind for settling the pin on hair, not air.
"Delta McKenzie Tru-Life paper targets feature a wide variety of game and are and excellent choice for indoor or outdoor ranges. Printed full-colored on 75 lb. paper, all Tru-life paper targets feature scoring outlines defining the heart, liver, and lungs. Bulk is shipped as a single target with no packaging. Individually packaged is in a clear plastic bag with a full-color header card. Specify quantity of targets when ordering."
Delta provides options of Deer, Elk, Hog, Mountain Lions, Big Horn Sheep, Javalina, Pronghorn and an assortment of small game species.
Paper Targets
Paper targets are beyond essential to success for today's shooters. I like paper targets but in today's day, there are no shortages of targets to choose from that fit your style and purpose.
If you are going to pull the trigger, make sure you know where the bullet is going, it is not just a part of shooting, but a core requirement of responsible gun ownership.