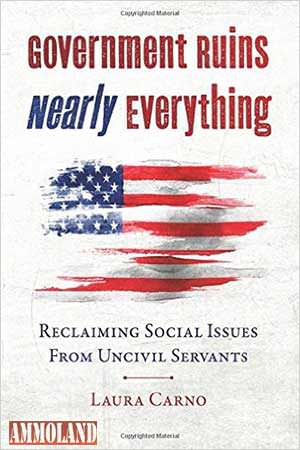 Ohio – -(Ammoland.com)- True to form, Laura Carno, directly talks her way through some of the most controversial issues of our time. Laura shows us how to break the mold of governmental dependence, and to stop looking towards government for the "answer."
Government Ruins Nearly Everything reminded me how often we fall into the trap of believing that when something needs to be fixed, we'd better contact our legislature, and remain hopeful that they get it right, but Laura reminds us, government never gets it right.
It's We The People who hold the keys for positive change.
As a regular speaker and advocate for our Second Amendment rights, specifically the human right of self-defense, Laura reminded me of the proper role of government, is to safeguard our rights, mediate disputes, and defend our nation. When government crosses the lines of those core responsibilities, we all suffer.
In a quietly thought provoking manner, Carno invites, if not compels, the reader to internally reexamine their views on many issues, challenging what were thought to be well settled matters. I found this reexamination especially helpful, and necessary, as I prepare my fight for freedom during the 2016 election cycle.
A must read, and great graduation gift for any young adult, as we send them off to make their futures, and engage in the fight for freedom.
Government Ruins Nearly Everything is a reminder that we are the stewards for change, and a step by step guide on how to reclaim what was taken away by a runaway government.
Sean Maloney serves as legal counsel for Buckeye Firearms Association, and as an NRA-ILA EVC in Ohio. His efforts have led to his induction into the NRA-ILA EVC Hall of Fame. He is a member of the NRA Board of Directors and is currently seeking re-election.
About the Author, Laura Carno:
Laura Carno is an activist in Colorado who has long fought for individual rights. She is a strong advocate for Second Amendment rights and in 2013 Laura was a key figure in the Colorado Grassroots movement, that successfully recalled two State Senators; including the President of the Colorado Senate, for stealing away the firearms rights, and rights to self-defense of Coloradoans.
Laura was instrumental in arranging for members of Buckeye Firearms Association (BFA), to deploy in Colorado, and stop Mayor Michael Bloomberg's support of the attack on Colorado Gun Rights. Fresh off driving Bloomberg and his bus tour from downtown Columbus, Ohio, members of BFA leadership were well aware that a Bloomberg victory in Colorado would bring the battle back home to Ohio. With Laura's help, BFA with support of its members, met Bloomberg head on in Colorado, and defeated his millions of dollars' worth of effort.
Since then BFA's relationship with Laura has continued, and Laura is working to bring Buckeye Firearms Foundation's FASTER Saves Lives program to Colorado to protect their children.
Laura Carno is a Colorado citizen who understands that politicians are not kings, endowed with some birthright to parcel out our freedoms in tiny doses as they see fit. She knows it's not the job of hired civil servants to tell us what size soda to drink, which light bulbs to buy, or what kind of insurance our family needs.
She believes that we're all adults who don't need to be told how to live, but who instead need to stand their ground when government gets the relationship with its citizens upside down. When elected officials forget whose money they are spending and whose rights they are eroding, when they forget who's the boss and who's the public servant—then it's up to citizens to speak out and reset the balance.
To get your copy of Laura's book, which is the number one seller in its category on Amazon, follow this link to Amazon.
Find her speaking out against the "Mother, May I?" culture, one issue at a time, at www.lauracarno.com and @LauraCarno.
About:
Buckeye Firearms Association is a grassroots political action committee dedicated to defending and advancing the right of Ohio citizens to own and use firearms for all legal activities. Visit: www.buckeyefirearms.org