By Bob Shell
Writer Bob Shell takes the Kahr CT 380 Pistol to the range to shoot a variety of .380 ammo.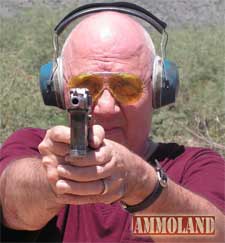 USA –-(Ammoland.com)- Kahr arms produces quite a few low cost guns that perform well and are available in the most popular calibers.
This Kahr CT 380 Pistol model did well with its ability to feed various types of ammo. The 380 cartridge is a relatively popular round as it gives decent power in a compact package which makes it attractive to someone looking for a reliable everyday carry firearm.
No one wants to get into a nasty confrontation but, if it happens then a tool that is up to the job is vital. Like any semi-auto the ammo that you intend to use for carrying purposes should be thoroughly checked out.
During the last few years ammo for the 380 has improved in reliability and power. With all of the brands available, you should be able to find ammo that is suitable for that gun. There are some good bullets and factory ammo so the handloader is in luck as is the non-handloader. There are new .380 bullet designs coming out, some are novel and should work well in social situations.
One novel factory load is the Liberty Ammunition brand. It uses a lighter then standard bullet at high velocities. I have tested it in a verity of calibers and it produces the advertised ballistics with reduced recoil due to the light weight. For info on Liberty Ammo you can go to www.libertyammunition.com . Double Tap has a large selection of ammo in many calibers and I have found that it is accurate and powerful. For info you can go to www.doubletapammo.net for more info. I shot the Winchester ball ammo which is good for practice something I would advise if you are going to carry a small gun. It shot well and was dependable.. Another new company produces a novel type that is a polymer type and light for it caliber. Ruger is involved and in the 380 they offer a 56 grain bullet. For info you can go to www.polycaseammo.com/project/inceptor-arx for info on their line.
Kahr CT 380 Pistol
The Kahr CT 380 Pistol's spring is very stiff and the 2.5 grain load didn't cycle the gun. That is fairly common as CNC machinery is used and hand finishing isn't used due to cost. After it is shot some that may change, and from what I have found it does. Like most typical guns after it has been shot a couple of hundred times it smooths out.
Also if you limp wrist it some stovepipes will occur. That will occur in many guns if you use that technique. Be sure that your wrist is locked in place to prevent those types of malfunctions. Therefore, if you have a new gun and good ammo that jams check out your hold before concluding that the gun may be at fault. For new shooters coaching is important as the coach will pick that up and help you correct it.
The Kahr CT380 displays good accuracy at 7 yards, keeping its shots into a 2-3" circle, which for such a small gun is very acceptable. It would be seldom used much past 7 yards. The CT 380's white dot sights are easy to pick up rapidly if necessary. Some shooters complained about the small size and trigger pull, but so far no feeding issues. Kahr Arms has a good selection of 380's and other calibers. They offer a variety of finishes and options, so take a visit to their site for a full listing http://www.kahr.com/.
LOAD                 BULLET                     VELOCITY                 COMMENT
Liberty                       50 grain                                   1409                                  nice
ARX                          56 grain                                    1258                                  nice
Double Tap           80 grain Tac-XP                            1129                            consistent
Double Tap        95 grain Controlled EXP                    966                                    ok
Winchester              95 grain FP                                850.8                                  ok
2.5 grans 231       100 grain FMJ                               623.3                                mild
I don't hand load a lot of 380 ammo but doing so isn't that much of a problem. Cases are available as well as a decent selection of bullets. They are the same diameter as the 9 mm but usually lighter in weight. Due to the small case, heavy bullets cannot be safely loaded to a useful velocity. For practice, you can buy bulk FMJ bullets for inexpensive practice. If they feed, cast slugs can be a viable option. With small calibers and guns, practice is important as shot placement is vital in a bad situation. You have a total of eight rounds, which should get you out of most situations especially if you are proficient.
The Kahr CT 380 Pistol is usually considered the smallest serious self-defense handgun. There are quite a few to select from and based on the testing results and other people's opinions this is one that should get serious attention if you are looking for a 380. If you are looking for a lightweight 380 I would recommend trying this one out as well. THe Kahr CT 380 is light and compact enough for carrying which is important to many concealed weapons carriers. There are smaller guns such as 25 and 32 autos but they lack the power for serious social situations though they to an extent have benefited from advances in ammo.
Small guns are harder to shoot accurately and that is important, as a small bullet has to be precisely placed in order to be effective. Some small caliber guns may be more prone to jamming so it would be important to be sure that the ammo will 100% feed. Nothing else is acceptable.
If you are looking for a reliable small gun then the Kahr CT 380 Pistol might be the one. With good ammo it can get you out of a bad situation and I would recommend you give it a try.
The MSRP is $419 but like most guns a little shopping will usually find better prices.
Caliber: .380 ACP
Capacity: 7+1
Operation: Trigger cocking DAO; lock breech; "Browning – type" recoil lug; passive striker block; no magazine disconnect
Barrel: 3.0″, Conventional Rifling, 1 – 16 right-hand twist
Length O/A: 5.52″
Height: 4.4″
Slide Width: .75″
Weight: Pistol 11.44 ounces (w/o magazine)
Grips: Textured polymer
Sights: Drift adjustable white bar-dot combat rear sight, pinned in polymer front sight
Finish: Black polymer frame, matte stainless steel slide
Magazine: 1 – 7 rd, Stainless
About Bob Shell:
A Custom Reloader of Obsolete and Antique Ammo, Bob Shell, writes about the subject of Guns, Ammo, Shooting and Related Subjects. For more information, visit:www.bobshellsblog.blogspot.com.