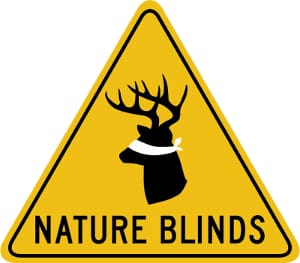 USA –-(Ammoland.com)- If you think all wildlife feeders are the same, then you haven't seen the BIG OAK FEEDER from Nature Blinds.
Then again, maybe it's better to hear about its features before you see it – because once you've seen the BIG OAK FEEDER, you'll be so caught up in its great looks you'll forget about its unsurpassed functionality and versatility.
For a wildlife feeder to be truly effective, it needs to hold enough feed to last. It also has to protect that feed from the elements, work with a variety of different food products, distribute that food dependably, and scatter it enough to prevent spoilage and discourage conflict among wildlife.
The BIG OAK FEEDER holds 200 pounds of corn or any pelletized food product and reliably distributes that product up to 20 yards – perfect for every woods or pond application.
Best of all, the BIG OAK FEEDER is the only feeder that blends into the environment, thanks to its ultra-realistic bark texture and tree-stump shape.
It starts with Nature Blinds' exclusive ultra-realistic, 3-D bark texture. The BIG OAK FEEDER looks and feels just like a mature oak tree trunk and instantly blends into any environment. Made from durable high-density foam – the same way trees and rocks are made for Hollywood movies, the BIG OAK FEEDER is no mere prop.
Heavy-duty construction means the BIG OAK FEEDER will last for years, and the high-density foam protects food from the elements, keeping it dry and fresh from the first timed delivery to the last.
A built-in solar battery charger ensures the BIG OAK FEEDER won't fail at critical times, and it requires less maintenance and monitoring. When it's time to add feed, easy top access makes filling the BIG OAK FEEDER a breeze, and you won't need a ladder or step stool. And despite its low-to-the-ground profile, the BIG OAK FEEDER's unique upward-angled delivery system provides maximum dispersal and distance for corn and other pelletized feed.
If you're tired of constantly adjusting, filling and changing batteries on your wildlife feeder, check out the BIG OAK FEEDER from Nature Blinds. The BIG OAK FEEDER is the only blind that not only blends in, but also functions like a force of nature.
Nature Blinds Big Oak Feeder Features:
Optional remote
Integrated solar battery charger
Programmable timer
Realistic Bark texture
Made in the USA
To learn more, please visit www.natureblinds.com.