By JJ Sutton, C.P.S., C.M.A.S.
JJ gives us the back story on his son's first Custom AR15 rifle.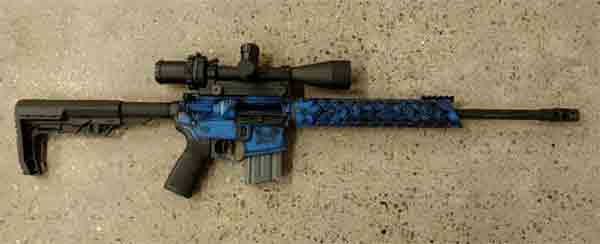 U.S.A. –-(Ammoland.com)- Where it starts for most firearm enthusiasts is remembering their first firearm lovingly.
Maybe it was a Daisy BB gun. Maybe it was a .22 single shot rifle or a handgun.
I certainly remember mine and, yes, it was the Daisy. I grew up on a big remote ranch and there really wasn't a culture of "Target Shooting" in my family. Our culture was about shooting something to get rid of it or to put meat on the table. We shot varmints to get rid of them, and we shot game animals for meat. I was wholly invested in shooting a rock squirrel with my BB gun and it took me almost a year to finally actually "get" one.
I learned A LOT about accuracy and appropriate distances from that Daisy BB gun that sticks with me still.
Now, fast forward to a new generation. I don't live on that ranch any longer. I have a son and daughter who are being introduced to shooting in a different culture and in a different world than I knew.
Where does one start to introduce this generation to firearms? A custom AR15 of course.
With my son, we skipped the play gun stuff. No, Daisy BB gun. However, I did get a Gamo airgun once that shot pellets. That was for some pesky critters within city limits, but I wasn't impressed and just couldn't get the confidence from the thing, so it sat in the box for a number of years before I finally just sold it in a yard sale.
Due to the nature of my career and line of work, I am around firearms on a daily basis. My children see and hear firearms related conversations on a steady basis.
For my son's ninth birthday, he received a Walther P22 and his learning started on a handgun and was related to self-defense shooting. Over time, and from watching and observing some of our training programs, then trying to duplicate what he saw, he learned to operate his handgun very well. In fact, as a ten-year-old, I would say that he could operate his handgun better than some law enforcement officers I have taught in courses! He could shoot right or left handed equally well. He could do reloads right or left handed. And he could do some complicated shoot, no shoot, and move drills as well as anyone in our beginner and intermediate courses.
At twelve years, he had proven to me that he understood his firearm and all related safety issues. He had proven his abilities and his responsibilities and he asked to attend a formal class I had coming up. It was a small sized Advanced Level Personal Defense Course that had a couple law enforcement officers, as well as a few seasoned concealed carriers in it. He was told the class would not wait on him, and if I thought he was acting unsafely or was slowing them down or distracting them, I would immediately bench him. He also asked if he could run the course with a Glock 19 Pistol.
I agreed, with the same terms. (He had already shot it a number of times in one on one drills under my dedicated supervision and I knew his abilities with it). He ran this two-day course alongside seasoned adult shooters and handled all the advanced level drills just fine with over 500rds fired. He was NOT at the bottom of the class and it raised some eyebrows that he could do mag changes as well he did and didn't miss a beat when it came to some of the complicated drills and scenarios.
I was and still am very proud of his gun skills.
That is how my son was introduced to firearms. It was from a practical perspective and purpose driven. It was never about target shooting and it wasn't a hobby. In this day and age, I think it was a completely appropriate way to address his firearms interest.
Let's talk about the next level. As a twelve-year-old, he also has shot more full auto machine guns than any other kid I know! Working from the 1,800-acre facility of Pawnee Sportsmens Center in northeast Colorado for four years, I had access to lots of fun stuff. He has been around events I managed and around the guests I have had the privilege of knowing. One is Alan Samuel from Machine Gun Tours.
I have held numerous events that Machine Gun Tours was a part of. Machine Gun Tours has many full autos that should be in museums, but people get to live fire them rather than just see them behind glass. They range from 9mm full autos up to and including a 30mm canon – my son has shot many of them due to Alan's generosity!
Actually, the next level wasn't machine guns. It was when he decided it was time to get ready for hunting big game. In full disclosure, I owned a small Custom Firearms Manufacturing business and we specialized in Custom AR15s and my hobby project involves developing ARHunters.com too.
What rifle would you suggest for a new youth shooter interested in hunting big game?
I'm sure if you're a regular Joe, it might be a .243, or maybe a .270. I don't know – I am not a regular Joe. I was given a 30-30 lever action for my first hunting experiences and I stacked a half a dozen elk and deer with it as a teenager. I was very fortunate, but times have changed – the age of the "Modern Sporting Rifle" is upon us.
In the spirit of introducing him to the whole process from the ground up, we started with an 80% AR-15 receiver. We worked on it together and soon had it completed. The next step was putting some "custom" work on it and we added a few laser engravings he thought cool. The first were the "SAFE" and "FIRE" markings treated with some custom choices. The symbols for "PAUSE" and "PLAY" got added as fitting, culturally appropriate, symbols of his generation. He added our PHNX logo to one side and a clip art piece of an angry wolf on the other side, along with a custom serial number, all his choices.
One of the final steps on his Custom AR15 build was the finish. He chose a color and texture, and furniture for the build was set aside. This was HIS build, so the color isn't what I would have chosen for a "hunting" rifle, but at the same time, "why not" might have got uttered in my mind as he came up with this stuff. I have the privilege again of knowing some great craftsmen and skilled specialists that I already do business with, so the laser work wasn't anything out of the way and the finish and paint job wasn't either. It got slipped right in the mix. Now don't get me wrong, this process wasn't quick. It was a year-long deal and his anticipation was at the max level.
We finally had a finished 3 piece set. The lower receiver, the upper receiver, and a matching custom handguard was all painted and the build could get underway in earnest! He had already set aside a Mission First Tactical Minimalist Butt Stock and Pistol Grip. After this long, I think a little dust had to be wiped off the packaging. We built the lower out, and I just put a standard Mil-Spec trigger in there so he can change it in the future as he desires. (My AR Hunting Rifles have drop in CMC Triggers but that's my choice.)
Custom AR15, What Caliber?
Some of you may be aware that I am involved with developing ARHunters.com and its social media (Facebook & YouTube). You also might know that my fourteen-year-old niece has taken a 6×6 bull elk in Colorado (video below), a New Mexico cow elk, and a New Mexico nanny Ibex, all with an AR chambered in 6.5 Grendel. (I'm not single-minded: I am currently infatuated with the .243 WSSM, and I am in the process of building a .300 OSSM to hunt with and review.)
I decided to encourage him to consider the 6.5 Grendel for his build, and he agreed. I reached out to Alexander Arms, and the really good people over there were super supportive and helpful. We got an 18" "Lite" fluted set up from them. The final touches topping off this custom build were an Adjustable Gas Block and the Muzzle Rise Eliminator muzzle device from Witt Machine. I pulled a scope off a varmint setup I had (A Leatherwood/Hi-Lux 2.5×10 power Computer Scope – I love this scope BTW) and we installed it on his rifle. It was ready.
The very first round (No Joke!) was a dead center bullseye at 25yds! I was flabbergasted. We tuned it up though and got it centered one inch below dead center for the zero I wanted him to use for hunting. After the first two rounds on paper, he did all the adjusting and zeroing himself.
Time was starting to work against us and we had to hit the road in order to be where we needed to be for the next day's hunt. We had the opportunity to use a game damage Antelope Tag from a private property owner in Southern Colorado. That meant that I had a pretty safe and easily controlled hunt that I could get my son into for his first time out. I had just wrapped up a grueling six-day northern New Mexico elk hunt with my brother that included two-day pack out his 6×6 bull, four miles each way from a wilderness area. I was ready for a much easier hunt this go around.
Opening Day with his new Custom AR15
Opening morning, with my son on the private property, we got on a little herd of Antelope. We just couldn't get set up for a good shot right away though. We had to let them do their thing, so we kept our distance and made our plans. Those involved a solid morning of watching and waiting, lots of time on the glass, and careful planning on how we were going to get the shot made. They had casually made their way to the middle of a huge alfalfa field and bedded down for the morning as we watched, waited, and tried to figure out where they would head next if we didn't booger them. Then there was movement….
After watching for most of the morning, the old buck played offense and kept chasing two younger bucks off from his band of 10 does. The lead doe decided it was time for a change of scenery and they started grazing and moving out of the field, into another area. We had got set up and waited for the parade to proceed right in front of my son for the perfect shot. I told him to choose wisely and for good eating. We discussed what that meant.
I wanted him to only take the shot when an animal paused, rather than to take his shot on a moving/walking target, to make sure he got a good first shot placement.
He agreed and we waited, watched, and adjusted position a dozen times as they walked right past and never stopped or paused once!
We slipped out of our position without alarming them, jumped back in the vehicle, went around far enough ahead of them to set up again where we expected them to show up. We watched, waited, and our patience turned to some excited trembling as they approached. They were coming straight at us and were closing within 150 yards. It was getting exciting for both of us. We had a perfect position and he was ready. I told him to just keep waiting and let's see how it played out. Finally, they spotted us at about 100 yards but were not alarmed yet. They did get nervous and made a 90-degree turn from their path, giving him the perfect broadside shot. They paused and milled around a little and that was all he needed. I told him to pick the one he wanted and aim, remain steady and just squeeze off his shot.
Well, he did it just about perfectly. The shot was well placed and the animal he picked was a young doe which ran less than 20 yards and toppled over. In the end, his shot actually took the top veins and arteries off the heart, leaving it completely disconnected but fully intact. He had his first game animal on the board and he was very excited and proud. Once again, I was just as excited and proud of him.
Custom AR15, A Rifle for a Lifetime.
He was involved in the build of his very own rifle from the ground up – how many kids can say that? Most of the choices he made were all his own in this build. No matter one's opinion on the color, the choices here were completely his and unique to him. That gives it a lot of significance and ownership as well. I imagine this gun will last him a lifetime. It has started out as a 6.5 Grendel and maybe one day he might change it or maybe he will just decide on a different upper for more choices/uses. Either way, that receiver now will be something he can hunt all kinds of game animals with as long has he desires, and he will have great pride in what that first rifle means to him. Time will tell how serious he decides to be about hunting.
I do know we expect to be in northern NM immediately following Christmas, and we're hoping for the same results with a cow elk hunt using the same rifle. Stay tuned!
Notes on Caliber Choice.
Now that I have my brother converted into a living and breathing ARHunter, and he has sold off all his other hunting rifles, we talk a lot about calibers. Our mutual goal is to educate shooters and hunters about what the AR platform offers and how versatile it is. In doing this, we introduce a lot of new shooters to hunting, and we encourage a lot of youth shooters.
When it comes to calibers, my brother claims there are a lot of hunters out there infected by "Magnum-itis". Meaning North American Big Game Hunting requires a magnum caliber for its hunting. We both disagree with this theory. Knowing your caliber and its appropriate distance and accuracy are key, and shot placement is absolute. When we try to get new shooters skilled, confident and encouraged to enjoy the experience, we definitely do NOT introduce them to magnum calibers at all. We want them to practice, gain confidence in their abilities, and to be accurate at appropriate distances. Having softer, lower recoiling calibers with which to do this allows them to be not intimidated by the process. They will shoot more because they are not subject to a punishing recoil (crucial for youth shooters and small framed shooters). It is definitely more affordable than launching magnum calibers down range repeatedly, and when they shoot more, their skill level increases as does their confidence.
It's our formula for introducing a new shooter to the sport. 6.5 Grendel is an amazingly soft shooting caliber that is also almost ballistically perfect, within appropriate distances for taking any game animal up to and including an elk. Despite what some caliber snobs will say, shot placement is key. Appropriate distances and confidence in making those shots follow close behind. 6.5 Grendel IS legal to hunt with and DOES have the energy to dispatch a large bodied elk within 400 yards. We have multiple confirmations of this from our young female teenage hunter already, and a second teen is quickly entering the fray.
That's the basis of why 6.5 Grendel is our choice as a great caliber for youth hunters and new shooters.
Visit ARHunters on Facebook too if you want to follow along in our antics.
https://www.facebook.com/ARHunters
Only one video so far has been produced but check it out on Youtube:
https://www.youtube.com/watch?v=AO51KPbbmFk
About JJ Sutton, C.P.S., C.M.A.S. :
A Native Colorado resident & life time Hunter. JJ served 7yrs in the US Army during the 90s and logged 12 months down range during hostilities in the Balkins. Mostly work and some play he as traveled/visited 20+ countries. He has served in the Private Security Field for more than 15yrs., as a Certified Protection Specialist and Certified Master Anti-Terrorism Specialist, including the 2002 Winter Olympics, Presidential Security Detail Member with the President & First Family of Haiti, Int'l Celebrities and personalities related to his business in Aspen, CO. Later Security Services throughout Colorado & Caribbean, Firearms Training, Consulting and now overseeing Custom AR15 design & builds of the AR15s & AR10s put out by VDC Armory, LLC. His current pet project includes a new website promoting the Modern Sporting Rifle like it truly is intended to be with ARHunters.com & social media by the same name.