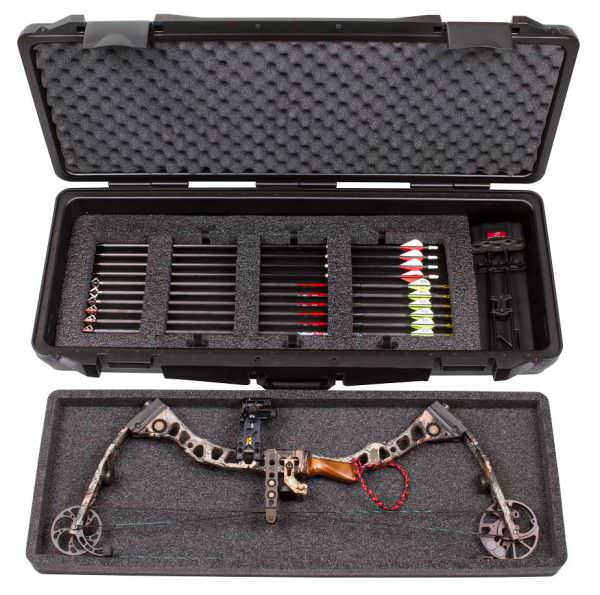 MIDDLEFIELD, Ohio -(Ammoland.com)- A basic, single-wall bow case is better than nothing. But a better bow case is better than that.
New for 2017 and previewing at the Archery Trade Association Show January 10-12, Flambeau Outdoors' Double Wall Series Compound Bow Case offers double the protection on the outside and double-decker storage on the inside.
The math is simple – it all adds up to a better bow case.
The Double Wall Series Compound Bow Case securely holds most bows – from big crossover hunt/target bows down to the most compact parallel-limb hunters – without the need for straps or tie-downs.
With the lid latched closed, bows can't slide around inside due to the compression created by a foam bow tray that fits between the bow and the lower storage compartment.
"It's nice to be able to shut the lid and go," said Flambeau Outdoors Marketing Director Kim Norton. "There aren't any straps or buckles to monkey around with, and you don't have to worry about them breaking or coming loose. Foam compression is just a better, simpler way to keep the bow secure."
The lower storage compartment is customizable and houses up to 10 arrows, which can be stored with broadheads attached. Additional space houses a quiver and other accessories. A Zerust anticorrosive VCI insert protects metals from moisture and rust for up to five years.
"The air pocket between the two walls of HDPE plastic allows this case to absorb a tremendous amount of shock and impact without any damage to its contents," said Norton. "This is our first double-wall case for compound bows, but this type of construction has already proven itself – through other divisions of Flambeau, Inc., – to be the best combination of value and durability."
With its ability to absorb abuse, locking tabs and strong latches, the new case is airline worthy and TSA compliant.
Fits bows up to 39" cam to cam and 13" limb pocket to draw string. Interior dimensions are 40.625" L x 14.4375" W x 6" D. MSRP is $179.99. Made in the USA.
About Flambeau Outdoors:
Flambeau, Inc. is a member of Nordic Group of Companies, Ltd. Nordic Group (Baraboo, Wisconsin) is a privately held holding company consisting of subsidiaries with 22 facilities and 23 marketing units around the world with over 2,400 associates. Nordic Group companies manufacture and distribute plastic, seating and transportation products worldwide for industrial, commercial and consumer markets. Flambeau Outdoors, a division of Flambeau, Inc., is a recognized manufacturer of quality, innovative products for the hunting and fishing enthusiast. Flambeau Outdoors is located in Middlefield, Ohio.