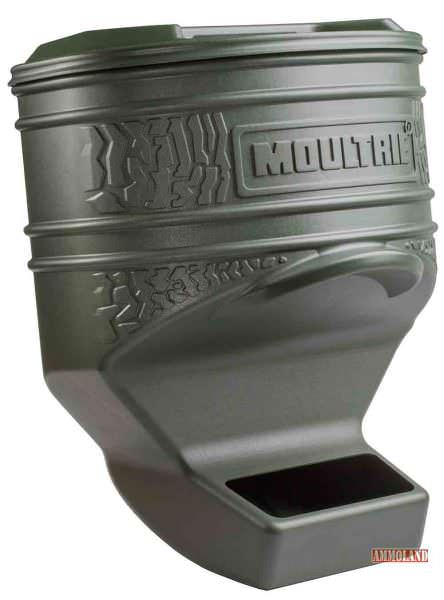 Birmingham, AL –-(Ammoland.com)- Moultrie, the best-selling brand of trail cameras, game feeders and wildlife management products, introduced the maintenance-free, gravity-fed Feed Station in 2016. And due to overwhelming popularity for the simplicity of the design, Moultrie has expanded the Feed Station lineup with the addition of the Feed Station Pro.‬‬‬
Staying true to the simplicity of original Feed Station, the Feed Station Pro simply straps to a tree or T-post, using two, included weather-resistant straps and you're ready to feed wildlife—no batteries needed, programming required and no assembly necessary. This durable, Moultrie Green UV-resistant plastic gravity feeder holds up to 80 pounds of feed, twice the amount of the original Feed Station, making frequent trips to refill your feeder an extinct task.
The Feed Station Pro offers surprisingly simple versatility, dispensing a variety of feed types, from corn to protein pellets to powder supplements. In addition, food stays dry for long periods of time thanks to water-draining weeping holes on the bottom of the feeder's trough.
The gravity-feed Feed Station Pro features all the perks of Moultrie's original Feed Station—with an upsized design to minimize refilling needs.
Feed Station Pro Highlighted Features:
Simple, rugged gravity-driven design
80-pound holding capacity of grains, pellets and powder supplements
Durable, UV-resistant plastic construction for years of maintenance-free use
Two woven nylon straps included for tree or T-post mounting
No batteries, programming or assembly required
Weeping holes in trough for water to drain to keep food dry
MSRP for the Feed Station Pro: $49.99
For more information about the Moultrie Feed Station Pro, or any other Moultrie products, contact Glenn Walker at [email protected] or visit www.moultriefeeders.com.
About Moultrie
As the leaders in game management, Moultrie's dedication to producing reliable and easy to use products has kept Moultrie as the top-selling brand in trail cameras and game feeders, for over 35 years. With an insight for innovation, a commitment to excellence and continuous improvement, Moultrie is driven to develop new and superior products, year after year.‬