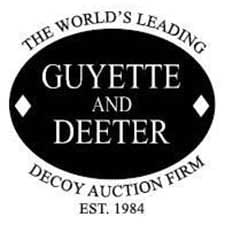 Charleston, South Carolina –-(Ammoland.com)- On February 18 2016, Guyette and Deeter, Inc. will hold their fifth consecutive decoy and sporting art auction in partnership with the Southeastern Wildlife Expo, in Charleston, South Carolina.
This is a unique event for both the expo and Guyette and Deeter.
The company was asked by the SEWE board of directors to establish an auction that would create excitement, and revive the tradition of old decoys and collectibles at the show. For this reason, Guyette and Deeter keep their auction completely unreserved, so that everyone that participates has a chance at buying a quality item at a bargain price.
While unreserved and about one third the length of our other three auction, the strategy is proving beneficial to both the expo and decoy company.
The participants can bid comfortably knowing the company guarantees their condition reports, which not all auction houses do. They have also kept their buyer's premium at 15 percent, in an environment where most other auction houses have moved to 25 percent.
The auction of nearly 275 decoys and related items which will be held at the Charleston Marriott, 170 Lockwood Boulevard, features two previews.
The first preview is 3:00 pm – 5:00 pm Friday, February 17, and the second preview starts at 10:00 am on February 18, followed by the auction at noon. Price estimates will range from $100 – $30,000 and world famous old-time decoy carvers include Elmer Crowell and Joseph Lincoln (Massachusetts), John Dilley (Long Island, New York), the Ward Brothers (Maryland), Ned Burgess (North Carolina), and Alvirah Wright (Duck, North Carolina). For an online preview, visit the firm's website at www.guyetteanddeeter.com.
The auction is open to the public and there is no admission fee. A 40 table decoy show will be held in the same facility. Online bidding is available through www.invaluable.com. More information on the Exposition is available at www.sewe.com or 843-723-1748.
Guyette & Deeter, established in 1984, is the world's largest decoy auction firm with over $170,000,000 in decoy sales. They hold four cataloged auctions per year. In February at the Southeastern Wildlife Expo in Charleston SC, April at the North American Vintage Decoy & Sporting Collectibles Show in St. Charles IL, summer in Portsmouth NH, and November at the Waterfowl Festival in Easton MD. For more details, visit their website at www.guyetteanddeeter.com.
The firm also conducts weekly online auctions at www.decoysforsale.com. Since 1989, Guyette & Deeter has dominated the decoy auction market. In January 2007, Guyette & Deeter, in conjunction with Christie's (New York), sold a merganser hen by Lothrop Holmes for a world record auction price of $856,000.
Guyette & Deeter provides free decoy appraisals to anyone sending a decoy photo and stamped, self-addressed envelope to: Guyette & Deeter, PO Box 1170, St. Michaels, MD 21663.
For email, send to:
About Guyette & Deeter
Established in 1984, Guyette & Deeter, Inc. has held over 120 live auctions, realizing over $160 million in sales of decoys, paintings, and related sporting items. Our firm has handled the most important decoys and collections in North America and we have set nearly all of the world records in these categories: duck and shorebird decoys, fish decoys and plaques, duck calls and crow calls, decorative carvings, shotgun shell boxes, salesman sample canoes, and other related items. Visit : www.guyetteanddeeter.com