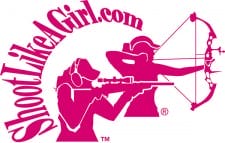 ATHENS, Ala. -(Ammoland.com)- Shoot Like A Girl is proud to be partnering with S&S Outdoors, LLC and Lake Norman Delta Waterfowl for their first annual Ladies Day Afield.
S&S Outdoors is a dog training facility, owned and operated by, Shoot Like a Girl Pro Staffer, Sloan Williams and family, that specializes in training hunting retrievers.
The Delta Waterfowl committee wanted a way to reach out to the ladies in their community and offer them a day to learn about shooting sports and introduce them to the different activities related to the sport.
"We are honored to be a part of such and awesome event for women and their introduction to shooting sports " says Karen Butler, President of Shoot Like A Girl, "We are very excited to share our knowledge of shooting sports and hunting the with ladies of the Lake Norman Community."
On Saturday, April 1st, the Shoot Like a Girl mobile range, their female Certified NRA instructors, and part of their pro staff will be at S&S Outdoors in Cleveland, NC to instruct in archery, pistol, and rifle shooting.
There will also be demonstrations, along with hands on learning opportunities for other outdoor sporting activities such as fly fishing, self defense techniques, hunting 101, and more.
For more information on the event or to purchase a ticket, click here.
About Shoot Like A Girl:
Shoot Like A Girl has become and remains an industry leader in growing the number of women in shooting sports by giving women across the country the experience of shooting a pistol, rifle, and bow in a safe controlled women friendly environment, that empowers them with the confidence they can shoot.
Please recognize the following Shoot Like A Girl Corporate Partners who enable them to grow the number of women in shooting sports and change lives, one shot at a time:
Cabela's, Ruger, Smith & Wesson, Beretta, Charter Arms, Colt, GLOCK, Magpul, Taurus,Weatherby, Savage, PelterSport, Truglo, Nikon, Trijicon, Thermacell, Mossy Oak, Danner, Rocky Mountain Elk Foundation, Beman, Federal Premium Ammunition, Hoppes, Mathews, Hoyt, BowTech, Bear, PSE, Neet Archery Products, S & S Outdoors, Legacy Sports, and PESA.