by Jim and Mary Clary
Jim and Mary highlight the Columbia River Knife and Tool Forged By War Program with this review of the CRKT Tecpatl Push Dagger.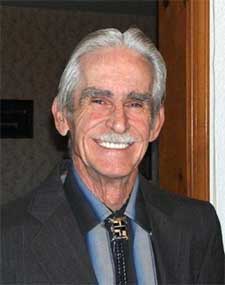 U.S.A. –-(Ammoland.com)- The Tecpatl fixed blade push dagger was designed by Michael R. Rodriguez, a combat veteran who served 21 years in the United States Army and retired as a Green Beret.
More than once, Michael wished the CRKT Tecpatl Push Dagger had existed while he was serving overseas.
When you hold the Tecpatl in your hand, it is so ergonomically designed, that it's hard to tell where your anatomy ends and the blade begins. Michael R. Rodriguez of Fayetteville, North Carolina (originally from Las Cruces, NM) designed the Tecpatl as a part of the CRKT Forged by War program.
His conviction: "a good combat fighter relies on instinct; a great fighter understands the importance of an ergonomically flawless weapon."
About the Forged By War Program : CRKT cares deeply about our returning veterans and we saw a way to give back to the community that created them. In 2016 we're honored to announce the launch of the Forged By War program. These are mission ready tools, designed by veterans, with 10% of the CRKT net profits of the program donated to the veterans' charity of choice.
CRKT Tecpatl Push Dagger
The blade of this powerful knife features a black powder finish for corrosion resistance and is complete with a sugar skull. The laser markings on the skull are a reflection of Michael's heritage as well as a chronicle of his own personal story.
Being a native of New Mexico with an extensive western heritage, Mary Clary feels a special connection to this knife. It is a foregone conclusion that this is one blade that Jim will not get it back.
Close examination reveal the horns, the Crusader's Cross, and the Office of Strategic Services Symbol. The engraved 7, above the blade recognizes the 7th Special Forces Group that Michael served with. Above the 7, the arrow is reminiscent of the crossed arrows of the Special Forces. The three lightning bolts honor the Green Berets and their shoulder patch.
Michael's Tecpatl was designed to also honor the traditional Aztec obsidian close-quarter knife used by the Aztec Jaguar warriors. Although you may not find yourself in combat, the Tecpatl is ideal as a last-resort self-defense weapon.
CRKT Tecpatl Push Dagger Specifications of the Tecpatl:
Model Number: 2261
Designer: Michael R. Rodriguez
Blade Length: 3.375″ (85.73 mm)
Blade Edge: Plain
Blade Thickness: 0.203″ (5.16 mm)
Blade Finish: Black powder coat
Blade Steel (and Handle): SK5 Carbon Steel
Hardness: 53-55 HRC
Overall Length: 5.813″ (147.65 mm)
Weight: 5.6 ounces
Kydex sheath with a MOLLE compatible gear clip
MSRP: $89.99 ( less online )
We love this item and the CRKT Tecpatl Push Dagger is one knife we will be keeping.
About Jim and Mary Clary:
Jim and Mary Clary have co-authored over three hundred and fifty articles, (and counting) on shooting and hunting. You can read many of them on AmmoLand News.