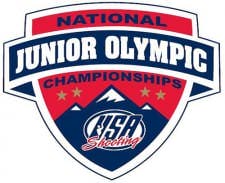 COLORADO SPRINGS, Colo. -(Ammoland.com)- Nearly three weeks of intense competition by the top Junior Rifle and Pistol athletes in the country will wrap with the Men's and Women's Pistol events to close the National Junior Olympic Shooting Championships (NJOSC) for Rifle/Pistol at the U.S. Olympic Training Center in Colorado Springs.
All but two of the overall medalists from a year ago return in the four NJOSC events. None of them earned honors as the top-scoring invitees, which should add even greater intrigue to this year's Pistol competitions.
Yulong Jones (Germantown, Maryland) earned the top score nationally in Women's Air Pistol (370). National Junior Team member Sarah Choe (Los Angeles, California) had the top score in Women's Sport Pistol (572). On the Men's side, National Junior Team member Antonio Gross (Ontario, New York) had the top score in Men's Air Pistol (560) and Tony Chung (Diamond Bar, California) had the top Men's Sport Pistol score of 570.
Returning medalists include Jack Leverett (Bainbridge, Georgia), Charles Platt (Colorado Springs, Colorado), Carson Saabye (Larkspur, Colorado), Katelyn Abeln (Douglasville, Georgia), Kellie Foster (Rockdale, Texas) and Hannah Walsh (Wolford, North Dakota).
Competition in Men's and Women's Air Pistol will include two Qualification matches and one Final that will feature the top-eight athletes based on their cumulative Qualification scores. Points will be added to each Finalist's Qualification score, based on order of finish in the Final. Podium spots will be awarded based on Qualification scores plus Final points.
Men's and Women's Sport Pistol will only include one Qualification course of fire and a Final. This year's NJOSC will also help select team members for the International Shooting Sport Federation (ISSF) Junior World Championship for Rifle/Pistol in Suhl, Germany later this summer. The Women's Sport Pistol and Men's Rapid Fire Pistol events will have separate selection matches and Finals to pick team members for the World Championship.
By the conclusion of NJOSC, more than 790 athletes will have made their way through the U.S. Olympic Training Center to compete in NJOSC competition in 2017. Athletes invited to Colorado Springs comprise the top tier of athletes that competed in a state level events totaling 2,658 competitors.
The NJOSC features the top 30 percent of all competitors in 2017 and will feature Invitees that either won their state championship or were selected based on a score they attained. The competitors range in age from 10 to 20 years old, and are classified per age as J1 (ages 18-20), J2 (ages 15-17) or J3 (ages 14 and younger).
This year's NJOSC Pistol competition will honor National Junior Team member Justin Ahn, who passed away following an accident April 2 near his home in Diamond Bar, California. The 18-year-old Ahn was a bright star on the USA Shooting scene, a stronghold on junior pistol podiums since 2013. He competed on the 2014 World Championships Team as a junior and was the 2015 Air Pistol Junior Champion.
He was a beloved member of the successful Bridge Jr. Shooting Club, coached by Assistant National Team Coach In Kim. He was set to compete at this NJOSC in the Men's Air and Sport Pistol events. USA Shooting will honor the junior shooter by placing AHN stickers on each competitor bib while also having them available for the athlete participants to place on their pistols and pistol cases.
NJOSC Pistol Schedule:
Friday, April 21: Women's Sport Final and Men's Air Day 1
Saturday, April 22: Women's Sport World Championship Selection and Men's Air Final
Sunday, April 23: Men's Sport Day 1 and Women's Air Day 1
Monday, April 24: Men's Sport Final and Women's Air Final
Tuesday, April 25: Men's Rapid Fire World Championship Selection
Click here for a look at the full schedule.
About ELEY:
Eley is a Proud Sponsor of the USA Shooting Rifle and Pistol Teams: ELEY Limited, manufacturer of the world's most consistently accurate rimfire ammunition, has been the Official Sponsor and Official Supplier of .22 rimfire ammunition of the USA Shooting rifle and pistol teams since 2000.
For more information on ELEY and their products, please visit their website.
About Winchester Ammunition:
Winchester Ammunition is a Proud Sponsor of the USA Shooting Shotgun Team: Winchester Ammunition has been the exclusive ammunition sponsor and supplier of the USA Shooting Shotgun Team since 1999. Members of the past two shotgun teams brought home a combined six medals from London and Beijing using Winchester AA International Target loads. Winchester is an industry leader in advancing and supporting conservation, hunter education and our country's proud shooting sports heritage.
For more information about Winchester and its complete line of products, visit their website.
About USA Shooting:
USA Shooting, a 501c3 non-profit corporation, was chartered by the United States Olympic Committee as the National Governing Body for the sport of shooting in April 1995. USA Shooting's mission is to prepare American athletes to win Olympic medals, promote the shooting sports throughout the U.S. and govern the conduct of international shooting in the country.