One knife that caught our eye was the Spyderco Peter Carey Magnitude Carbon Fiber Knife, based on a Peter Carey design called the Tremor.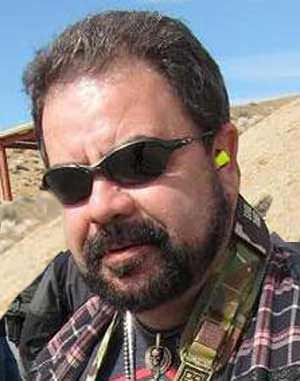 U.S.A. –-(Ammoland.com)- At the 2017 SHOT Show, Spyderco had a number of new models on display. One of the knives that caught our eye was the Spyderco Peter Carey Magnitude Carbon Fiber Knife, based on a Peter Carey design called the Tremor.
Peter Carey has been making custom knives for over 20 years.
His knives easily sell in the four-figure market and can only be obtained at a knife show via lottery system or through the secondary market where the prices often double or triple.
Thanks to collaborations like this one with Spyderco, collectors and users can sample the lines of a Carey design along with some of the materials he uses for a fraction of that price.
The Magnitude is a liner lock folding knife that is made in Spyderco's factory in Taiwan.
This is one of Spyderco's higher-end offerings with a 3.5″ hollow ground blade made from high-performance CPM S30V particle metallurgy stainless steel. There is no serrated option for the Magnitude but it does feature an unsharpened top bevel.
Liners are full length skeletonized titanium and the handles are machined from solid twill carbon fiber with a scalloped G10 back spacer. The clip is configured for right-side tip-up carry.
Spyderco Magnitude Carbon Fiber Knife is a Peter Carey Design The Good
When it comes to materials in a factory knife, it is hard to go wrong with titanium, carbon fiber and S30V steel. These are typically used by custom knife makers instead of factories where knives are mass-produced.
You get the best of both worlds in one-hand opening options with the Magnitude. Of course you get the trademarked Spyderco hole that lets the world know that you are carrying a Spyderco, but you also get Carey's well-known index finger flipper. Both features give you swift, ambidextrous one-handed opening.
We like the more tactical look of this knife as opposed to the other two Carey collaborations that incorporated the color orange in the scales or back spacer.
The knife carries well in the pocket and is neither too light nor too heavy.
Spyderco Magnitude Carbon Fiber Knife is a Peter Carey Design The Bad
While S30V is good steel that was designed specifically for knives, it is not our favorite. We prefer the various tool steels for our uses, but if you are going to go with stainless, S30V makes for a good one.
We had to touch up the edge a bit. While it arrived sharp, we always like to go a bit sharper and S30V is probably our least favorite steel to have to tune up. Once you get it right, however, it does hold a decent edge for a long time.
The only other issue we saw, although it did not affect us, was the fact that it is only suitable for right-handed, tip-up pocket carry. The southpaws of the world may have to have their knives drilled and tapped for carry on the left hand side. The same would go for those who prefer tip-down carry.
Spyderco Peter Carey Magnitude Carbon Fiber Knife The Reality
One thing we have always liked about Spyderco's knives is how they can take either a traditional knife design or one from a custom maker and turn it into their own. Their design team really knows their craft when it comes to placement of the trademarked hole in the blade or the pocket clip.
They hit it out of the park with their Magnitude collaboration with custom knife maker Peter Carey. Spyderco's MSRP for one of these is $484.95 which ventures into low-end custom knife territory. Street prices from online vendors seem to be closer to $280.
This is not a cheap knife by any means, but the materials, design and execution of this model are not cheap, either. We found the Magnitude to be a tactical gentleman's folder and a solid design.
Spyderco Peter Carey Magnitude Carbon Fiber Knife Specifications:
Model Number: C212CFP
Model Name: Magnitude
Designer: Peter Carey
Weight: 5.3 oz.
Blade Length: 3.5″
Cutting Edge: 3.35″
Closed Length: 4.72″
Overall Length: 8.22″
Blade Thickness: 0.138″
Blade Material: CPM S30V Stainless Steel
Blade Grind: Hollow
Blade Edge: Plain
Blade Style: Drop Point
Handle Material: Carbon Fiber
Locking Mechanism: Liner Lock
Pocket Clip: Tip-Up, Right hand
About Mike Searson
Mike Searson's career as a shooter began as a Marine Rifleman at age 17. He has worked in the firearms industry his entire adult life as a Gunsmith, Ballistician, Consultant, Salesman, Author and was first certified to teach firearms safety in 1989.
Mike has written over 2000 articles for a number of magazines, websites and newsletters including Blade, RECOIL, OFF-GRID, Tactical Officer, SWAT, Tactical World, Gun Digest, Examiner.com and the US Concealed Carry Association as well as AmmoLand Shooting Sports News.
Home page: www.mikesearson.com
FB: www.facebook.com/mike.searson
TWITTER: www.twitter.com/mikesearson