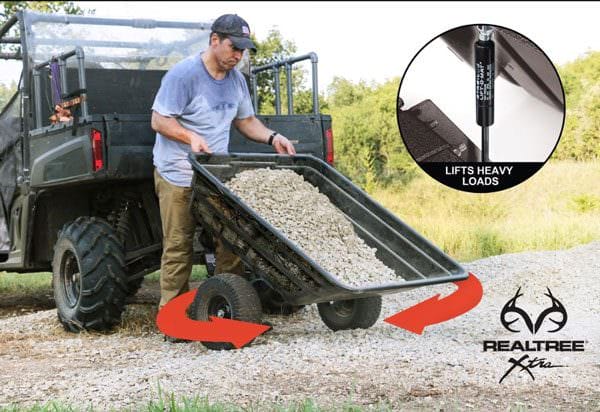 USA -(Ammoland.com)- If you are a farmer, rancher or hunter who's looking to save time and your back, the Realtree 12 cu. Half-Ton Hauler Lift-Assist and Swivel Utility Dump Cart, now available at Orscheln Farm & Home Stores, can help.
Stop wasting money on lighter-duty formed metal pull-behind dump trailers to move livestock and land materials. The Realtree 12 cu. half-ton hauler features a hydraulic lift-assist tub to make handling heavy loads up to 90 percent easier.
Most other utility dump trailers are formed metal frames and designed with a center dump pivot point where they dump like teeter-totters. If you fill the bed with something heavier, you must lift most of the weight in carts to get them dumped.
You strain to lift a heavy tub and then quickly lose control stepping away as the heavy load shifts and slams the tub to the ground. This design results in spending more time finishing chores, hauling less and taking more trips.
The Realtree Hauler combines a rear offset dump pivot point, offering greater control, and a hydraulic-assisted tub lift for easier heavy-load handling. Designed by OxCart Products, these key changes revolutionize how much you can handle, saving time and reducing physical strain, allowing you to get more done in half the time and effort.
You can fill this tow-behind trailer to the max and not have to worry. You'll be able to handle any heavy load with our lift-assist and swivel design.
Fewer Trips – load-tested to 1100 lbs. by an independent certified lab.
Incredible durability – professional-grade all-square-tube steel frame design, including a NASCAR-designed full-mandrel-bent axle support for max performance and greater clearance over terrain, and a rugged virgin polymer tub.
Innovative lift – assist and swivel design to dump anywhere – 110 degrees of motion from either side.
Run-Flat tires – Tractor-grade multi-terrain 4-ply tires with run-flat technology – a liquid polymer that self-seals most punctures instantly before losing any air. Commercial-grade graphoil bushings and grease zerks extend wheel life – $100 Value.
Multiple use cart – The conversion kit accessory turns the Realtree trailer into a Farm Cart / Wheelbarrow in seconds. It becomes the four-season all-in-one convertible dump cart to push or tow as a barn muck cart for livestock cleanup to hauling feed, game, gravel, sand, or seed for land maintenance and hunting prep.
Contact your local Orscheln Farm & Home Stores store for pricing and availability.
About Realtree:
Realtree is the world's leading camouflage designer, marketer and licencor with over 2,000 licensees utilizing the Realtree camouflage brand. Thousands of outdoor and lifestyle products are available in Realtree camouflage patterns. In addition, Realtree is committed to supporting individuals and groups that work to ensure our outdoor heritage, the conservation of natural places, and the wildlife that resides there.
For more information, visit their website.