By John Crump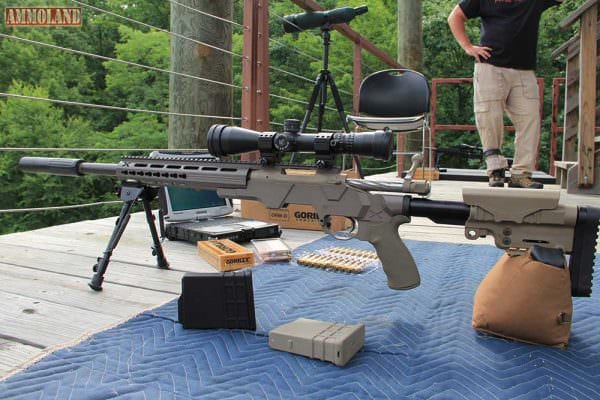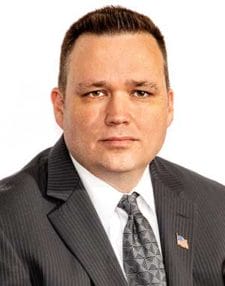 U.S.A. –-(Ammoland.com)- What can be more cool than playing with new gear with good people and shooting all day?
The answer is doing it at a world class facility with driving thrown into the mix. That is exactly what I did at the A*B Arms Media Range Day that was held at Panthera Training Center in Old Fields, West Virginia.
This was my first time attending this event so I wasn't sure what to expect. After driving a couple of hours through "God Country's" we arrived at the Panthera Training Center. The thing that amazed me is the sheer size of Panthera. It is a massive 800 acre complex located on top of a mountain. In addition to shooting they teach everything from land navigation to high speed driving at the facility.
We checked in and went to the dinner event that they had planned for us. We had some great BBQ with all the sides.
This was chance to hang out with other gun writers and industry insiders types. It was a good time with good food. A lot of interesting stories were exchanged. After that we went back to the Panthera town houses where we were staying.
The accommodations were great. These were complete two bedroom townhouses. Each townhouse was equipped with DirecTV and internet. I was going to use this time to write, but I was absolutely beat and had a long day ahead of me. I decided to rest up for the night so I headed off to bed, and I was asleep before my head hit the pillow.
We arrived back at Panthera Training Center at 8AM and had breakfast. It was a great homemade buffet style breakfast. We all filled up for a fun filled day. After breakfast we had a briefing and was introduced to the instructors and the host for the day. We were told to pick a Tahoe and we would be driven around for the rest of the day.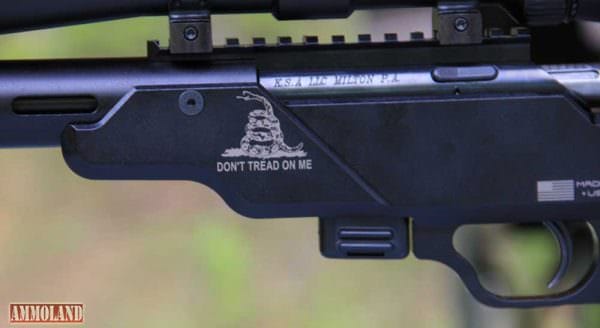 We headed out to the thousand yard range for some long range shooting. The range was a 1000 yard, but we weren't going to shooting at the full 1000 yards. We were also going to be shooting from a 40 foot platform. This made the little boy in me come out and think back to the times where I would pretend to be a sniper fighting the Communists when I was ten.
We were shooting Remington 700 Rifles outfitted with the American Built Arms MOD*X chassis chambered in .308 and .223. The chassis really cut down the weight of the Remington 700s by a lot. It was also very ergonomically designed, and very comfortable to shoot.
The first target was at 800 yards for the .308 using ammo supplied by Gorilla Ammunition. Gorilla Ammunition is very good match grade ammo. It is by far my favorite ammunition company and the ammo I most use. You would be hard pressed to find any Gorilla Ammunition with a bad primer or any other defect. I was happy that they were chosen to be the ammo sponsor for this event.
The targets we were shooting at were supplied by Oakwood Controls. The Oakwood Controls targets are a really cool piece of tech. The shooter get instant feedback to where the bullet hit on the target. The hit shows up on a computer screen and is tracked. It does this by actually using the sound of the bullet to determine the hit point. It is a crazy system that the likes of the USMC is using. This made the geek in me come out.
We also shot the .223 at a target set at 600 yards using Gorilla Ammunition. The Oakwood Controls system was also set up on these targets. I just can't say enough good things about Gorilla Ammunition and Oakwood Controls. Both are great companies with cool products.
After shooting I got to check out some really cool packs by Man-Pack. Man-Pack makes really useful bags with the concealed carrier in mind. They have everything from the entry level bag up to a bag that would look awesome in the boardroom. I am going to have to pick up one of the theses bags for myself.
One cool product that they had was a clip board/white board called the Bulletproof Backpack Insert, that actually had a level 3A ballistic protection rating. This is a cool idea because it is a lot less threatening to the general public and the TSA than a ballistic plate. All you have to do is drop it in a backpack and you have a makeshift ballistics vest that can be taken everywhere.
I also looked at some great knives made by Battle Horse Knives. Battle Horse Knives makes very high quality knives. They had all different styles. I am hoping to get my hands on some in the future to review.
I also spoke to the guys at Family Defense. They make body armor. I am trying to set up a review and some testing in the near future. Just on the surface they look like they make a quality product.
After the shooting we broke for lunch. Lunch was amazing. It was all homemade. The best thing about lunch was the apple cobbler. It was absolutely amazing! It was also great to cool down after being outside all morning in the hot sun.
I spoke to the reps from Propper Clothing during lunch. I had no idea they were around for 50 years. I have a few pairs of their pants. I also discovered that they made body armor which was a surprise to me. The biggest surprise to me was that they supplied the uniforms for the soldiers in some of the Transformers movies.
After lunch we broke into small groups of three and headed out with the Panthera training staff. The rest of the day was seeing what Panthera had to offer in terms of training. We would not be disappointed.
Our first stop was the shoot house. Their shoot house is two stories with 6000 square feet of space.. We were given a scenario of a hostage being held somewhere inside the shoot house. We had to clear each room looking for the hostage. After we did our runs we got to watch other people from the cat walk above the shoot house. We could run it as many times as we wanted to.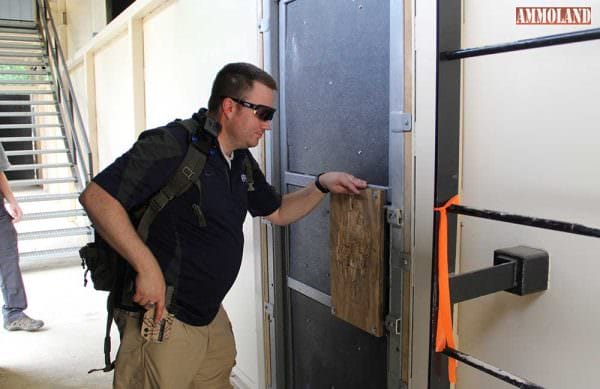 We used the CTRL Glasses inside the shoot house. These glasses are something from a science fiction movie. You hit a button and they darken in a fraction of a second. Also they have an automatic setting. These are being used by the US Secret Service and The Navy SEALs.
Our second stop was the covered range where we got to play with some really cool gear such as the UM Tactical muzzle brake. This muzzle brake was on an AKM. it made the AK feel like shooting a .223 instead of 7.62x39mm. I really liked it.
I was also able to fire the Patriot AR15. This was made by a small company out of Chicago named Patriot Arms. It was a very smooth firing AR15. This is going on my want list for personal use. I do know it had a CMC trigger in it. I am a big fan of that brand of trigger.
After that we headed to the off road obstacle course. This was really fun and I didn't know a Tahoe could be pushed that far. We did skip a couple obstacles that are designed for getting the vehicle stuck so people can practice their recovery techniques.
We got to check out the new Can-Am side by side that the US Military are going to be using. These have tons of power and was able to fly on the gravel road. We took it on the off road obstacle course and it ate it up like it was nothing.
We then headed to the high speed road course where we were able to drive an old Ford Crown Victoria around the course. This was a lot of fun. I pushed the car further than what I thought it could do. It was a very eye opening experience.
After we got done flying around the course we were met by a former SAS member that took us through the high speed course in a Tahoe. This is the most scared I have even been in a car. He pushed our Tahoe far past the point I pushed the Crown Vic. Although I was scared it was also a blast.
We headed through the combat town to the unimproved road course. The combat town is setup for force on force training as well as other drills. The Unimproved road course was awesome. It was better than any roller coaster I have been on.
Our final event was the 300 yard range where we got to fire Keystone Sporting Arms rifles.
With these rifles we were shooting .22LR accurately at 300 yards. These were probably the most accurate .22 caliber I have ever fired. I am trying to set up a review of these awesome rifles.
We all met back at the training room for our good byes. There was a raffle for a two day shooting and driving course. I was shocked when I won! I can't wait to take it and report back to you readers with a review on the course. We then headed home driving through the mountains of West Virginia.
I can not thank American Built Arms, Gorilla Ammunition, and Panthera Training Center for an awesome day shooting and memories that will last forever.
About John Crump
John is a NRA instructor and a constitutional activist. He is the former CEO of Veritas Firearms, LLC and is the co-host of The Patriot News Podcast which can be found at www.blogtalkradio.com/patriotnews. John has written extensively on the patriot movement including 3%'ers, Oath Keepers, and Militias. In addition to the Patriot movement, John has written about firearms, interviewed people of all walks of life, and on the Constitution. John lives in Northern Virginia with his wife and sons and is currently working on a book on the history of the patriot movement and can be followed on Twitter at @crumpyss or at www.crumpy.com.