Jacksonville, Alabama –-(Ammoland.com)- Bear OPS, a brand under Bear & Son Cutlery, celebrates the release of their new innovative high-end knife —the Incognito Automatic.
Among the highlights are its sleek, lightweight design, fast-action deployment and pen-type clip that provides a deep pocket carry. Not only does this clip allow for a deep carry, but it precisely imitates a common pen being carried in a pocket or briefcase.
Bear OPS Incognito Automatic Knife
The Bear OPS team joined forces with respected knife designer, Steve Jernigan, while designing the Incognito Automatic. Utilizing expert industry knowledge between Steve and Bear OPS arises a slim, lightweight blade that minimizes imprinting without jeopardizing functionality. This modern knife sets new standards for the professional workplace market with unique features such as a super-smooth, fast-action Sandvik blade that provides dependable, top-of-the-line operation. With a simple push of the recessed button, the 2 5/8" blade deploys on demand, firmly locking back and can withstand heavy loads.
The Incognito™ takes a big step with its slim design, maximizing premium comfort for all day carry — even in casual or dress attire. Modern luxury is clearly evident in the finished product. The grey stainless-steel handle stands out and ensures a characteristic design matching the unique Steve Jernigan shaped blade. Overall, the fit and finish of the Incognito™ Automatic underscores its exceptional status in the high-end lineup with expert craftsmanship and quality materials.
The knife's refined look and feel created through meticulous attention to detail and craftsmanship will be appreciated by all knife enthusiasts. The Incognito™ Automatic's material and color concept has been carefully composed to complete the professional work environment, remaining lightweight, concealable and most of all, reliable.
"The progress of the Incognito™ Automatic was extensive. Bear OPS is an American-made tactical line, recognized for its reliability in some of the world's harshest environments. We felt the brand should expand its tough reputation from the frontlines to the urban work place. By offering a new look, feel and purpose, we feel the Incognito™ Automatic and Bear OPS will remain an industry pioneer in the development of new high-end automatics," says Ken Griffey, President of Bear & Son Cutlery.
Bear OPS Incognito Automatic
Model Number: AC-800-S
Blade Material: Sandvik 14C28N
Handle Material: Gray Stainless Steel
Rockwell: 58-60
Closed Length: 3-1/2″
Edge: 2-5/8″
Weight: 2.6 oz.
Extras: Automatic, Pocket Clip provides for Tip-Down Carry, Deep Carry Pen-Type Clip & Quick Access, A Steve Jernigan Design
MSRP: $229.99
To learn about the Bear OPS Incognito™ Automatic and other Bear OPS products, please visit www.bearopsknives.com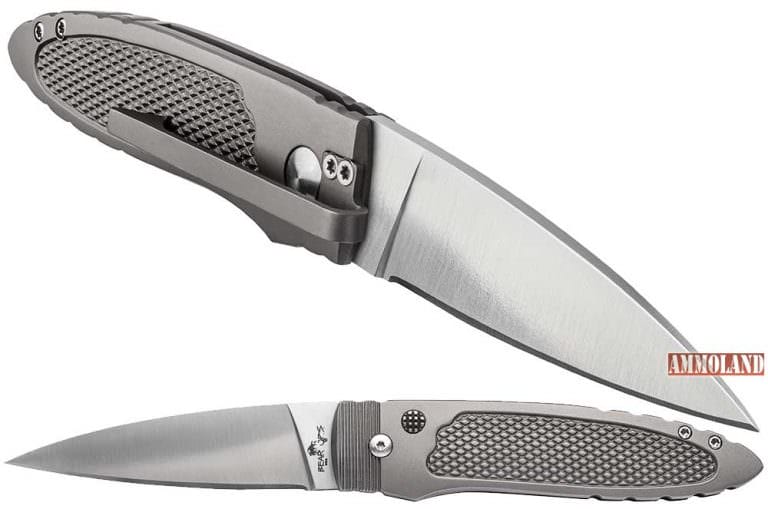 About Bear OPS:
Bear OPS is a division of Bear & Son Cutlery with the goal to manufacture the best tactical knives. Every knife is made with (OPS) Operational Precision for Superior use and can be relied on for any situation. Bear OPS only uses USA manufactured parts, materials and a dedicated workforce that's proud to build knives for our nation's first responders and military members.
About Bear & Son Cutlery:
Bear & Son Cutlery is equipped with a rich family tradition in knife making and employs a skilled and experienced work force that is capable of performing many of the extra hand operations that go into the making of their products. The Bear & Son Cutlery factory is unique. It is full self-contained. While some companies only assemble parts brought from various suppliers and put their names on the product, Bear & Son Cutlery does everything in-house from building their own blanking dies to heat treating, grinding and assembly, and hand finishing products. These steps ensure that Bear & Son Cutlery is of excellent quality and a real value for both the dealer and consumer. Their ongoing commitment is to make them in America and make them affordable.