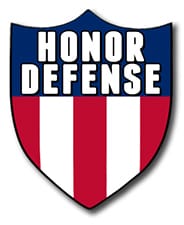 USA -(Ammoland.com)- Honor Defense has long supported military and law enforcement. In fact, since its inception, the company has donated a custom Honor Guard 9 mm pistol every quarter to military and law enforcement charity organizations.
The newest pistol has been customized by Coastal Cerakote to benefit the Navy SEAL Foundation.
The Navy SEAL Foundation Honor Guard has a Desert Sand Battleborn base coat, covered by a high-gloss clear coat. The slide has a darkened, deep blue American flag, similar to the flag patches worn in combat by Special Forces troops.
The custom Honor Guard will be auctioned on GunsAmerica.com starting July 20, 2017, with all proceeds going to benefit the Navy SEAL Foundation. The Navy SEAL Foundation provides immediate and ongoing support and assistance to the Naval Special Warfare community and their families.
"It is a privilege to support the Navy SEAL Foundation" said Gary Ramey, Honor Defense president. "This organization cares for families of the NSW community and we are proud to support them and the families in any way possible."
All proceeds will be going to the Navy SEAL Foundation. Each year, the Foundation serves over 9,000 active-duty NSW personnel and their families, as well as post 9-11 SEAL and SWCC Veterans.
Further information about the Navy SEAL Foundation can be found on their website.
In addition to the custom Cerakote Honor Guard, the package includes a 20-ounce RTIC tumbler in the same Desert Sand Battleborn color, featuring the logos of Honor Defense, Coastal Cerakote and the Navy SEAL Foundation.
Coastal Cerakote offers custom refinishing of firearms and firearms accessories, as well as high-temp coating of automotive applications. The company is veteran owned and operated, and pride themselves on attention to detail and 100 percent customer satisfaction.
Honor Defense pistols are All-American made handguns, designed for the concealed carry market, with more features than any other compact firearm.
Features include:
Striker-fired design that can handle 9MM +P loads
Snag-free sights (when drawing the pistol)
Ambidextrous slide catch and magazine catch
No trigger pull or tools needed for disassembly
Modular system with stainless steel chassis
Trigger with a wide face and a crisp 7lb pull
Short reset for a quicker second shot and better overall control
Custom texture design to provide a better grip in all situations
Replaceable back straps to allow customization
For more information about Honor Defense, visit their website.
For information about Coastal Cerakote, visit their website.
About Honor Defense:
Honor Defense firearms represent the next generation of modular handguns. Honor Defense firearms have more features than any other sub-compact pistol. Every part is manufactured in the U.S.A. to our highest standards. You can't buy a better pistol right out of the box. To create their pistols, Honor Defense secured input from a panel of professionals that have defended our nation or have extensive credentials in self-defense training.
For more information, please visit their website.