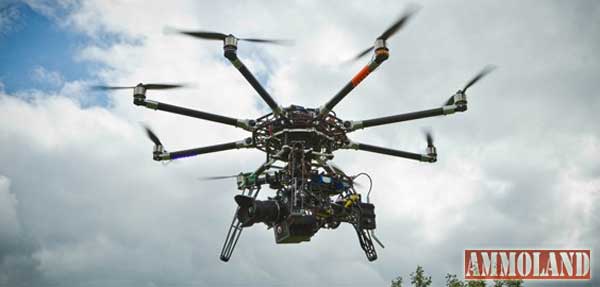 CENTERVILLE, Utah -(Ammoland.com)- Tread Lightly! today launched a public awareness campaign with the U.S. Forest Service to promote responsible use of unmanned aircraft systems, also called drones.
The campaign includes public service announcements, a dedicated web page, billboards and digital media.
The awareness campaign falls under Tread Lightly!'s Respected Access is Open Access program that addresses outdoor recreation issues and helps to educate people about responsible use to protect and enhance public land access.
"There are lots of great places for the public to fly drones on lands managed by the Forest Service and other public lands, but over or near wildfires isn't one of them," said U.S. Forest Service Chief Tom Tidwell. "Members of the public who fly drones over or near wildfires pose serious threats to the safety of firefighters, pilots and the effectiveness of wildfire suppression operations."

Tidwell added, "Incorporating this message into the Tread Lightly! Campaign helps our efforts to get the word out and helps prevent tragic accidents and wildfires unduly threatening lives, property, and natural and cultural resources."
This new messaging about drones piggybacks on the existing "If You Fly, We Can't" messaging created to protect against the disruption of aerial firefighting operations. Other public service advertisements will address issues such as user conflict and privacy, wildlife impact, zoning, and special use permits.
"As drones grow in popularity, so does the need to educate on responsible use and best practices," said Casey Snider, Interim Executive Director. "Our goal is to show how to use these aircrafts respectfully and thoughtfully. In the case of wildfire, proper use can save lives and property."
For more information on this new campaign, visit their website.
About Tread Lightly!
Tread Lightly! is a national nonprofit organization with a mission to promote responsible recreation through ethics education and stewardship programs. Tread Lightly!'s educational message, along with its unique training and restoration initiatives are strategically designed to instill an ethic of responsibility in outdoor enthusiasts and the industries that serve them. The program is long-term in scope with a goal to balance the needs of the people who enjoy outdoor recreation with our need to maintain a healthy environment. Tread Lightly!'s award-winning materials, programs and services are solutions to some of the nation's most pressing recreation issues.
Individuals and businesses can commit to Tread Lightly! and protect outdoor access by becoming a member on their website.
About the U.S. Forest Service:
The Forest Service, the largest agency in the U.S. Department of Agriculture, has a mission to sustain the health, diversity and productivity of the nation's forests and grasslands to meet the needs of present and future generations. The agency manages 193 million acres of working forests and grasslands that contribute more than $13 billion to the economy each year through visitor spending alone.
Find out more on their website.