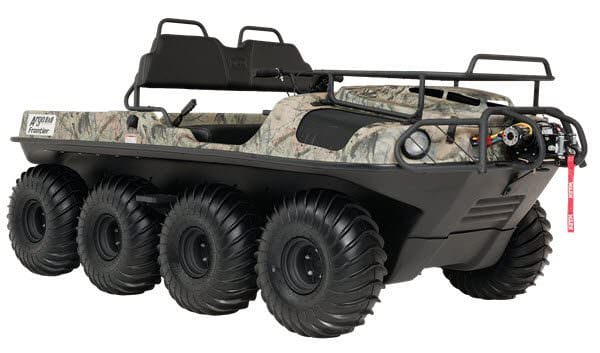 WEST POINT, MS –-(Ammoland.com)- ARGO, the world's leading amphibious Xtreme Terrain Vehicle (XTV) manufacturer, today unveiled its XTV lineup for the 2018 model year adding all-new models, features and options to its expanding line of industry leading powersports products.
Offering incredible versatility and value, the revamped ARGO 6×6 Frontier models make off-road riding approachable, easy and fun. With six different models to choose from including the Frontier 6×6/8×8 Scout outfitted with a number of hunting specific accessories including Mossy Oak Shadow Grass Blades® camo or Break-Up Infinity® camo, customers can further customize their ride with multiple color, transmission, accessory and seating packages – all new for the 2018 lineup.
Depending on the model, the new Frontier Series of vehicles come powered by a 23hp – 26 hp electronic fuel-injected, air-cooled Kohler Command Pro engine coupled with an efficient standard or high-torque steering transmission for great performance in challenging terrain. With significant updates for 2018, the ARGO Frontier Series looks to continue to build on the strong heritage that has helped it to become ARGO's bestselling amphibious six-wheeler in company history.
Featuring industry leading terrain capabilities, excellent value and enhanced performance, the complete 2018 ARGO XTV line up is categorized into two distinct vehicle families – Recreation and Commercial.
"While it's hard to downplay the excitement that comes from launching a brand new product line and our Xplorer series of ATVs, ARGO's core amphibious Xtreme Terrain Vehicles have never been stronger. By offering new and improved models that appeal to a wide variety of riding styles and applications, we're making it easier than ever before for people to find a vehicle that works for them, whether it's tackling the trails, splashing through streams or making it through the mud," said Brad Darling, ARGO XTV President. "Our 2018 ARGO XTV models mark an important milestone for the company, which for over half a century has been redefining what 'off-road' riding is about. I'm confident that both dealers and customers alike will be thrilled with what our latest models have to offer and look forward to continuing to push the envelope of our 'Go Anywhere' philosophy as we embark on the next 50 years."
To see the full lineup of 2018 ARGO vehicles, visit http://argoxtv.com. Mossy Oak camo customization offered on other models. Find out more at http://argoxtv.com. or visit your local dealer.
 ARGO is an officially licensed partner of Haas Outdoors Inc. Haas Outdoors Inc. is headquartered in West Point, Miss., was established in 1986 and is home of Mossy Oak. For more than 30 years, Mossy Oak has been a leading outdoors lifestyle brand that specializes in developing and marketing modern camouflage designs for hunters and outdoors enthusiasts. The Mossy Oak Brand and patterns can be found on a multitude of products worldwide. Haas Outdoors Inc. is the parent company of Mossy Oak, BioLogic, Mossy Oak Productions, MOOSE Media, Nativ Nurseries, Nativ Living, GameKeepers, GameKeepers Kennels and Mossy Oak Properties. Mossy Oak is the official camouflage of the National Wild Turkey Federation and Ducks Unlimited.
Follow Mossy Oak on Facebook, Twitter, Instagram, Google+, Pinterest and YouTube.