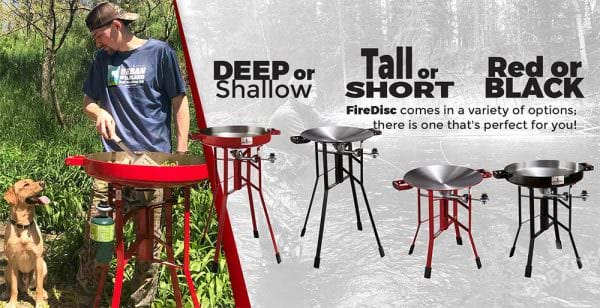 USA – -(Ammoland.com)-FireDisc Cookers announces they have retained Howard Communications, Inc. as their public relations agency of record.
"We're excited to start a working relationship with Howard Communications," said FireDisc Cookers President and Co-Founder, Griff Jaggard. "They bring years of experience working with the outdoor media and our products are a perfect fit for their skill set."

"From field to table has always been a big part of the hunting community. The popularity of cooking products and recipes has increased dramatically in the last few years. FireDisc Cookers offer a unique option for those who like to cook in camp and at home." said Howard Communications, Inc. President, Kevin Howard. "We're looking forward to working with FireDisc to get the word out about their great line of high quality products."
The FireDisc portable propane cooker was designed to be easily transported. Unlike charcoal grills which don't disassemble and are difficult to transport, FireDisc is easy to bring along. It will easily fit into a truck, boat or RV. The flexible stand also adapts easily to uneven surfaces.
The entire FireDisc system consists of two stand sections that nest together without tools or hardware, plus the disc itself, which sets on top of the stand. It takes mere seconds to assemble or disassemble, and the three pieces lay flat for easy transport or storage. The FireDisc features heavy-duty, high polished, tempered ultra-high carbon steel construction. The stand and burner are all powder coated with a premium thermoplastic pure silicone resin that's baked on at 450° F to form a virtually impenetrable protective skin.
FireDisc comes with either a deep or shallow pan. The deep pan allows you to deep fry and cook soups, stews and chili and a larger volume of food. The shallow pan is great for anything non-liquid and it takes up less space. Both pans provide an ample cooking surface that allows users to cook multiple food items at once due to the varying temperatures on different areas of the disc. FireDisc Cookers are available in both a 36-inch countertop-height stand or a more compact 24-inch tall model.
For more information about "Built to Haul, Cooks it All" FireDisc Cookers visit their web site at www.firedisccookers.com