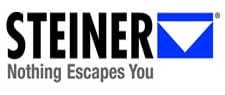 MIAMISBURG, Ohio -(Ammoland.com)- Steiner eOptics, best known as a leader in Night Vision Devices, Laser Aiming Solutions, Beacons, and Battle Lights, announces the addition of Thomas Haynes as Manager, International Sales and Marketing for the European region.
Thomas joins the Steiner eOptics team with extensive international business development experience in defense, security and other industries.
He served in the U.S. Army as a senior Military Intelligence NCO in Special Operations Intelligence, Psychological Operations, and Infantry units in Europe and the U.S.
His responsibilities include business development with European defense users, along with Foreign Military Sales and NATO acquisitions. Thomas will also lead Steiner eOptics efforts with the Beretta Defense Technology (BDT) partners in Europe: Beretta, Benelli, Sako, and Steiner Optik.
These BDT founding companies produce the finest weaponry and equipment in their segments, and now focus their efforts as a single source for critical tools which governments need for modern combat and policing.
Alan Page, General Manager for Steiner eOptics, states, "The defense industry and European business development experience Thomas brings to the BDT team is a dynamic addition to our international efforts, and fits well in our culture at Steiner eOptics."
About Steiner eOptics, Inc.:
Steiner eOptics, Inc. (Cage Code: 0SPF5) is the combination of Laser Devices, Sensor Technology Systems (STS), and Diffraction Ltd. Steiner eOptics is part of the Beretta family of companies, and operates under the Steiner brand. Located in Miamisburg, Ohio, USA, all of Steiner eOptics' products are designed, developed and produced in the USA and proudly carry the Made in the USA label. Steiner eOptics produces the Dual Beam Aiming Laser (DBAL) series of laser aiming systems, including the AN/PEQ-15A and DBAL-A2, and the new DBAL-PL, SBAL-PL, DBAL-RL, and SBAL-RL which were recently released at the 2017 NRA Annual Meetings and Exhibits held in Atlanta, Ga.