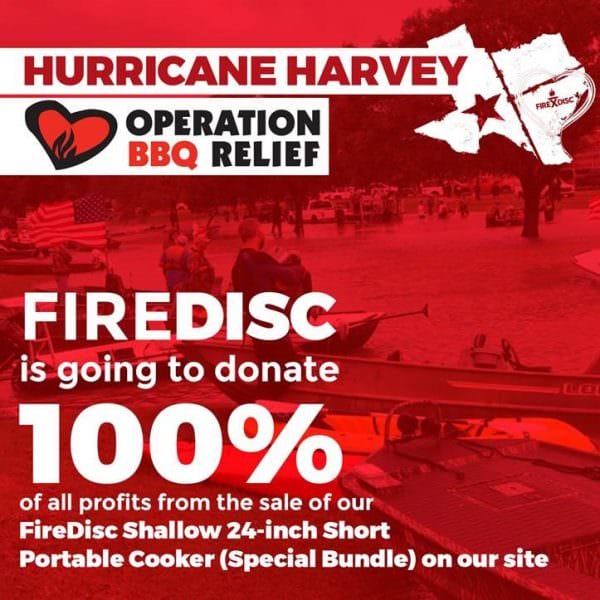 USA – Like so many in Texas, the Houston based FireDisc company has seen not only flooding and a disruption of services, but also the devastating losses suffered by their employees.
To help with the massive clean-up and rebuilding efforts needed, FireDisc will donate 100% of the proceeds of sales of the FireDisc Shallow 24" Short Portable Cooker (Special Bundle) www.firedisccookers.com/harvey-relief/ from this Friday, September 1st, through Monday, September 4th to Operation BBQ Relief operationbbqrelief.org/ . O
peration BBQ Relief helps feed both those that have been displaced by the disaster, as well as the emergency relief workers on scene.
"As a native Houstonian, Hurricane Harvey was one of the worst natural disasters I have seen in my lifetime. Several of us at FireDisc were directly affected by the damage and we as a company are going to step up and do everything in our power to give back to the victims directly distressed by this devastating storm," said FireDisc President and Co-Founder, Griff Jaggard.
"The FireDisc Shallow 24" cooker can be a real asset during the coming weeks while people are displaced from their homes and need a way to prepare meals," said FireDisc CEO and Co-Founder, Hunter Jaggard. "The cooker works on small 16.4-ounce clean burning propane bottles and can boil water up to 600 degrees, heat canned food directly and it's 22-inch size will feed a large group of people. The FireDisc cooker also quickly collapses flat, making it easy to store in a boat, RV, car or pickup. It's inspiring to see how people have come together in the face of this disaster to work together. We're proud to do what we can to help."
For more information about "Built to Haul, Cooks it All" FireDisc Cookers visit their web site at www.firedisccookers.com.