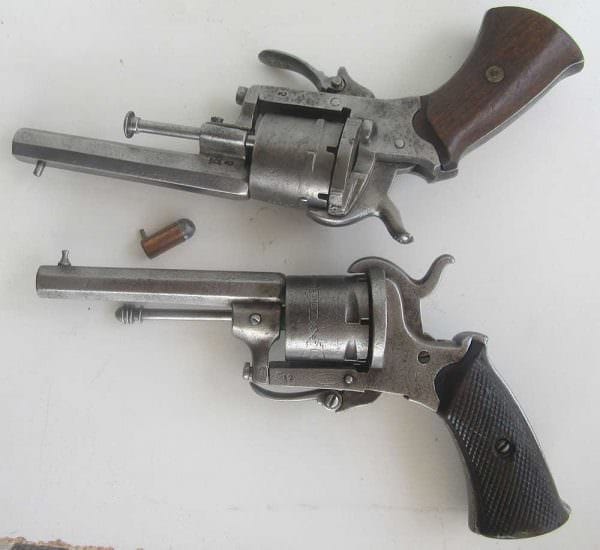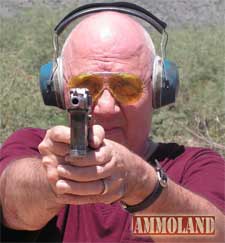 U.S.A. –-(Ammoland.com)- The CD arrived for the 2017 Firearms Guide and it is full of good info. The 2017 Firearms Guide DVD 8th Edition is a comprehensive database in one CD / DVD package that has a vast amount of firearms images, schematics parts list and more.
The 2017 Firearms Guide DVD 8th Edition is broken down into several sections and many subsections with advanced search options.
As a CD which can work on a MAC or Windows system. It is easy to use which is very important to me as I am barely literate when it comes to computers.
There are various search criteria such as calibers, stock types, price range, finish and several other methods to search for the needed info. That makes it easier to find your info and with the large amount of data available, that will save time when searching. A lot of the guns have photos from various angles.
One of the areas is schematics of many guns including some obsolete items. You can go to a specific manufacturer and choose a model. They have a view which can be enlarged which gives you a good view of each part which is listed and numbered so if you are looking for some good pictures and info on those this CD may be just what you are looking for. They have 67,000 Firearms, air guns and ammo from 1,000 manufacturers. Any of this info can be printed for future reference. In addition, there are some 650 different types of targets printing. The ammo database has 8,500 which pretty much covers everything. There is a conversion chart for US ammo to EU ammo which I use a lot since I work with all types of ammo.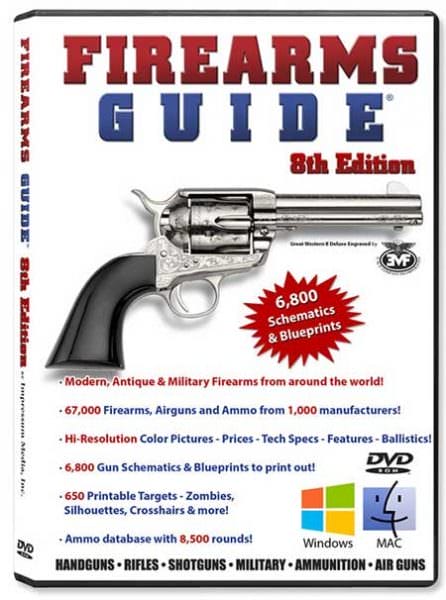 The ammo section is broken down into categories such as rimfire, cowboy, shotgun, rifle, and handgun. There are many listed with a picture and information such as ballistics, range, and uses.
If it is a modern hunting round that you are looking at bullet weights and recommended animals to be hunted with that round. There is many hard to find rounds and a manufacturer may be found in case you are looking for that round. There are even some pinfire rounds discussed and rimfires.
The only thing that I didn't see there was the older rimfires such as the 41 short and 44 Henry both popular in their time though I may have missed it. Shotgun ammo is covered by manufacturer and type such as buckshot or slugs.
There is a section showing military rifles both common and obsolete. It shows some good pix which can be turned for a different view plus gives some info on that gun. It is very comprehensive and informative. The same is done with handguns and shotguns. There are some nice pictures of pinfire revolvers for those of us who are interested in them. There is a good section on airguns as they are becoming popular for some types of hunting.
There is a section that gives gun values from 30 to 100% which is useful for those who buy and sell guns. It could come in handy when appraising guns for insurance purposes.
For many of us, perhaps the most valuable part is the schematics of so many guns. It can be enlarged to be able to examine parts so you know what you are looking for when going through a parts bin.
You can look at them to see if you have the right part for that gun. With so many guns out there getting the exact part can be challenging especially for obsolete guns. I know from experience how challenging that can be. There are 6800 schematics from 600 companies. While not every gun is covered it goes a long way to help us out. I can imagine how much time it takes to produce such info and get it in order. To me, that is worth the price.
I would recommend this CD to anyone who has an interest in detailed info on firearms and ammo. For info go to www.firearmsguide.com for any additional info.
About Bob Shell:
A Custom Reloader of Obsolete and Antique Ammo, Bob Shell, writes about the subject of Guns, Ammo, Shooting and Related Subjects. Visit: www.bobshellsblog.blogspot.com.