USA -(Ammoland.com)- The Realtree Half-Ton Hauler Lift-Assist and Swivel Utility Dump Cart by OxCart may look like your typical dump cart, but it's anything but.
Available at Orscheln Farm & Home and Amazon.com, the Half-Ton Hauler makes hauling and unloading large loads 90 percent easier than with standard carts.
How is this possible? You can thank the offset dump pivot point and hydraulic-assisted tub lift and swivel design.
Most utility dump trailers are designed with formed metal frames and a center dump pivot point that cause them to dump like teeter-totters. When the bed is filled with heavy items, you must lift most of the weight to dump the cart. You often have to step away as the load shifts and the tub slams to the ground.
The Realtree Half-Ton Hauler's smart design eliminates these problems. The hauler combines a rear offset dump pivot point for greater control with a hydraulic-assisted tub lift for easier heavy-load handling. The swivel feature reduces backing, allowing you to control dump wherever you want. These key features revolutionize how much you can handle.
This smart design saves time and reduces physical strain, allowing you to get more done in half the time and with much less effort. To put it simply, with the Realtree Half-Ton Hauler, you can lift much heavier loads and transport and dump them more quickly.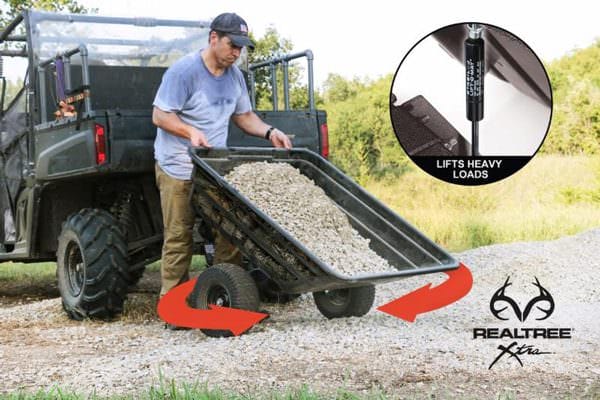 OxCart's pro-grade performance, innovative design and exclusive features make it the first tow-behind utility dump cart that you can fill to the max knowing it can hold, move, lift, position and dump the heaviest loads with ease.
The hauler is load-tested to 1100 pounds, so you can fill it up and make fewer trips. The hauler is designed with professional-grade, all-square-tube steel construction, including NASCAR roll cage full-mandrel designed bent axle support. The powder-coated hammered finish stands up to the wear and tear of the outdoors.
Tractor-grade multi-terrain 4-ply tires with run-flat technology are designed with a liquid polymer that self-seals most punctures instantly before losing any air. Commercial-grade graphoil bushings and grease zerks extend the wheel life. The conversion kit accessory turns the Realtree trailer into a farm cart/wheelbarrow in seconds for use in livestock care, land maintenance and hunting prep.
The Realtree Half-Ton Hauler is perfect for those managing hunting land or farm land or even just for at-home yard use.
Check out this video to see how OxCart and the Realtree Half-Ton Hauler work!
For more info, visit their website.
MSRP: $399 – $449
About Realtree:
Realtree is the world's leading camouflage designer, marketer and licencor with over 2,000 licensees utilizing the Realtree camouflage brand. Thousands of outdoor and lifestyle products are available in Realtree camouflage patterns. In addition, Realtree is committed to supporting individuals and groups that work to ensure our outdoor heritage, the conservation of natural places, and the wildlife that resides there.
For more information, visit their website.