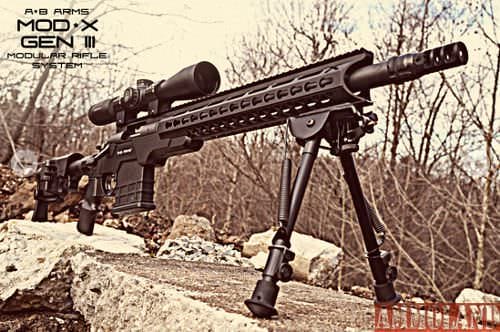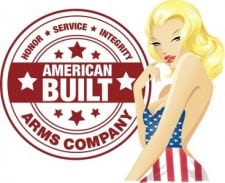 Glen Rock, PA –-(Ammoland.com)- American Built Arms Company (A*B Arms brand) is proud to announce that their best-selling rifle chassis, the MOD*X GEN III Modular Rifle System, is now available for the Remington Model 783 SA.
The A*B Arms MOD*X GEN III Modular Rifle System is a lightweight (3 lbs. 2 oz.), ergonomic, drop-in aluminum chassis. It serves as a modular foundation on which tactical accessories can be added according to the operator's needs.
"The Remington 783 is known around the globe as a consistently accurate and affordable rifle," said Jason Combs, President and Founder of American Built Arms Company. "Our International customers asked us to design the MOD*X chassis for the Remington 783 short action rifle to meet the needs of their hunting community clientele. It was an easy decision to then offer it Stateside as an affordable upgrade to the Remington 783 stock rifle."

The MOD*X GEN III remains one of the lightest aluminum rifle chassis on the market today. Weighing in around 3 lbs. 2 ounces, the MOD*X GEN III will be available in the fixed stock version with the MOD*X Side Folder Mechanism available as an accessory. The MOD*X GEN III will continue to use AICs magazines. If you're looking for an affordable, tactical upgrade for your existing Remington Model 783 SA, the MOD*X GEN III is your answer.
The MOD*X GEN III for the Remington Model 783 SA will retail for $499.99. It will be sold through A*B Arms' Distributor and Dealer network and at www.abarms.com. It will also be on display at SHOT Show in the American Built Arms Company booth #7006.
MOD*X GEN III Specs:
Designed and manufactured in the U.S.A. by a Veteran-Owned company
Designed for Remington Model 783 Short Action – Right Hand
Aluminum design, hard coat anodized to Mil-Spec Type III
Easy to assemble, drop-in design
0 MOA built into Mil-Spec 1913 rail
KeyMod Standard on three sides of the forearm for mounting equipment
Conventional slots for mounting Geissele® Automatics accessories on two sides of the forearm
Lightweight, 11.5" free-floating modular forearm
Will accommodate barrels as thick as the action
Comes standard with:
A*B Arms Fixed-Adjustable™ Urban Sniper Stock™
A*B Arms SBR P*Grip™
Designed to accept any AR-style butt stock and pistol grip
Uses AICS-style magazines in .308 and .223/.300AAC
Fixed stock version – Length of Pull adjustability of 10.62" to 15.69"
Trigger well will accept after-market trigger systems
Integrated push button magazine release located at the front of the trigger guard
Weight: 3 lbs. 2 oz.
About American Built Arms Company:
Headquartered in Glen Rock, Pennsylvania, in an area with a long tradition of manufacturing excellence and craftsmanship, American Built Arms Company (A*B Arms) was founded on the principles of Honor, Service and Integrity. A*B Arms is a Veteran-owned, Type 07/NFA FFL, privately held manufacturing company providing the defense industry, security and law enforcement, sporting goods and firearms owners with American-made, quality firearms products and accessories. www.abarms.com.