U.S.A. –-(Ammoland.com)- My gut reaction to H.R. 38 was this is amazing, I could not believe it was happening. Instantly I was dreaming of being able to carry a firearm for self-defense in places like my home state of New Jersey. After hearing the reasons why Congressman Massie and Amash oppose the bill, I was shocked to find myself in agreeance with them.
H.R. 38: Concealed Carry Reciprocity Act of 2017
To amend title 18, United States Code, to provide a means by which nonresidents of a State whose residents may carry concealed firearms may also do so in the State.
From the NRA:
The National Rifle Association applauded the United States House of Representatives on Wednesday for passing the most far-reaching expansion of self-defense rights in modern American history. The

Concealed Carry Reciprocity Act of 2017

passed with bipartisan support in a

231-198

vote.
"This vote marks a watershed moment for Second Amendment rights," said Chris W. Cox, executive director, National Rifle Association Institute for Legislative Action. "The Concealed Carry Reciprocity Act is the culmination of a 30-year movement recognizing the right of all law-abiding Americans to defend themselves, and their loved ones, including when they cross state lines."
The bill passed the House but it's concerning that fourteen republicans did not stand with their party and the rights of citizens to bear arms. As a supporter of gun rights, the first thought when hearing the bill passed the House was to see who failed to support the civil rights of everyday Americans. Take time to look at Govtrack to see if your representative supported your individual rights.
House Republican Members who did not support the passing of HR 38:
| | |
| --- | --- |
| Buck, Ken | CO 4th |
| Curbelo, Carlos | FL 26th |
| Ros-Lehtinen, Ileana | FL 27th |
| Roskam, Peter | IL 6th |
| Massie, Thomas | KY 4th |
| Amash, Justin | MI 3rd |
| Smith, Chris | NJ 4th |
| Lance, Leonard | NJ 7th |
| King, Pete | NY 2nd |
| Donovan, Daniel | NY 11th |
| Costello, Ryan | PA 6th |
| Meehan, Patrick | PA 7th |
| Fitzpatrick, Brian | PA 8th |
| Gohmert, Louie | TX 1st |
Most notable for the "No Vote" would be Thomas Massie and Justin Amash. Thomas Massie, Second Amendment Caucus Chairman and @libertycaucus member posted a video to Facebook explaining his position on the vote.
A worthy read from Justin Amash, @libertycaucus member is the retweet statement from the Liberty Caucus found on Twitter.
---
About Duncan Johnson: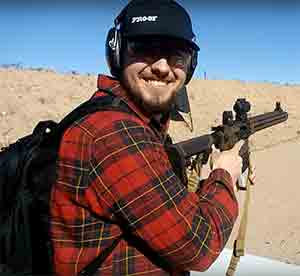 Duncan is a firm believer in the Second Amendment and that "shall not be infringed", means exactly that.  A life-long firearms enthusiast and a graduate of George Mason University, now competing regularly in 3 gun competitions, Duncan is always looking to improve his shooting skills. Duncan is a regular contributor to AmmoLand and assists in the everyday gun-news publishing as an assistant editor.