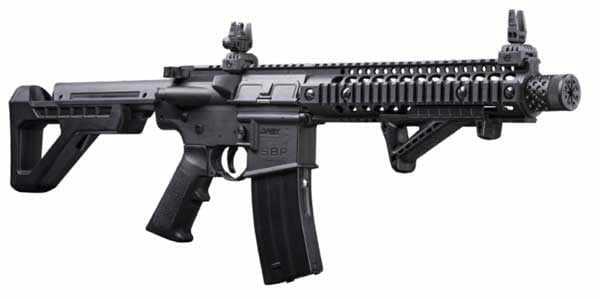 BLOOMFIELD, N.Y. -(Ammoland.com)- Crosman Corporation, in partnership with DPMS Panther Arms, is proud to announce the new DPMS SBR full auto CO2 rifle – the most fun you'll ever have shooting an airgun.
The DPMS SBR is a tactical compact CO2 rifle that sends out a barrage of steel BBs through either a single shot semi-auto mode or full-auto mode with an insane 1400 rounds per minute rate of fire.
"The rifle speaks for itself," says Philip Guadalupe, Product Manager. "It's one of the most badass air rifles on the market."
The SBR was inspired by the popular DPMS PDW short-barreled rifle, with a tactical twist. It features a 6-position buttstock, AR compatible Pistol grip, Quad Picatinny rails for accessories, angled foregrip and flip up iron sights (BUIS).
It is powered by dual 12 g CO2 Powerlets that is housed in a drop out 30rd magazine for ease of access.
This air rifle has a heavy, realistic weight and features such as blowback bolt action, ejection port cover, and forward assist button. This model will have a MSRP of $179.99.
Visit their website to see a demonstration of the DPMS SBR right now, and visit the Crosman booth at SHOT 2018 #13940 to see it live.
About Crosman:
Since its founding in 1923, Crosman has been driven by the steadfast pursuit of quality and innovation. Crosman's history is rooted in the airgun industry, where today Crosman remains the market leader in airguns, airgun ammunition, and consumables. In addition to airguns, Crosman has a diversified product lineup in the outdoor sporting goods industry that includes airsoft, firearms optics and laser aiming devices under the Lasermax brand, and archery products under the CenterPoint brand. Crosman is a subsidiary of Compass Diversified Holdings Inc. (NYSE: CODI).
For more information visit their website.