COVINGTON, Ga. -(Ammoland.com)- The most trusted name in scent control gets even better with 50 percent more odor-fighting enzymes! Preferred by big game and predator hunters, Dead Down Wind's more powerful formula will be featured across the full line of laundry, hygiene and field use product.
Laundry Bombs are new easy-to-use, water-soluble multi-chamber packs that consist of Dead Down Wind's proven enzyme-based detergent, now with 50 percent more enzymes.
Place a Dead Down Wind Laundry Bomb into the washing machine drum before adding hunting garments to remove stains and odors. Laundry Bombs are effective on natural, technical, synthetic or carbon garments, including sleeping bags.
Use a single bomb for small or medium loads, two bombs for a large load and three bombs for extra large loads. A pack of 18 Laundry Bombs will be available for $12.99 and 28-count MSRP for $16.99 MSRP.
Dead Down Wind's liquid laundry detergent products will be offered with 50 percent more enzymes in new user-friendly bottles with large handles and an easy-pour cap.
Simply measure the amount needed in the cap, pour, and wash. Dead Down Wind's Body & Hair Soap and Shampoo & Conditioner hygiene products will also be offered with a new easy-pump dispenser, effectively eliminating wasted use.
The popular Evolve Field Spray products from Dead Down Wind have been upgraded with new High-Efficiency Triggers, maximizing every squeeze for full coverage.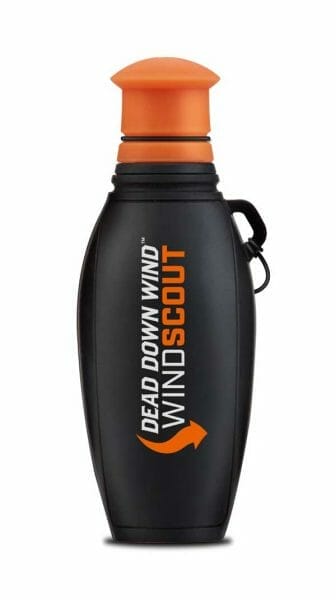 Wind can bust you or wind can hide you. The new WindScout from Dead Down Wind detects the slightest wind direction using advanced vapor technology. The WindScout dispenser emits up to a remarkable 400 "puffs" of smoke per cartridge.
An included USB charger keeps the battery topped off, while a lanyard makes sure it's always at the ready. The Dead Down Wind WindScout unit with smoke cartridge, battery, USB charger and lanyard will be available for $24.99 MSRP.
Additional smoke cartridges will be available in two-packs with a handy carry case for $9.99 MSRP. Close the distance with the WindScout.
Dead Down Wind is excited to introduce new branding for its full line of scent control products. "Customers will love the great new scent control products and improved formula, while retailers will appreciate the vibrant new packaging and powerful brand image that pops off the shelf," said Chip Hunnicutt, Director of Marketing for Arcus Hunting LLC.
See the full lineup of products from Dead Down Wind in the Arcus Hunting booth at ATA (booth #5334), January 11-13 and SHOT Show (booth #11019), January 23-26.
About Arcus Hunting:
Arcus Hunting is an acquisition and organic growth platform seeking to build a strong portfolio of leading brands in the bowhunting and archery category. Through its brands, Tink's, Dead Down Wind, Obsession Bows, Ramcat, Trophy Taker, Rack One, and Big Game Butter, Arcus markets and manufactures a range of leading deer lures, attractants, scent control products, premium bows, arrow rests, broadheads, replacement blades, quivers, and other archery accessories.
For more information about these brands or products, visit their website.