(AmmoLand.com) WEST POINT, MS – Every turkey hunter knows the importance of effective concealment and having a good vest while hunting turkeys. New for 2018, are some of the most innovative vests that have ever been introduced to turkey hunters. In addition to the various features offered, these vests are designed with America's no. 1 turkey hunting camouflage, Mossy Oak Obsession®, the official camo of the National Wild Turkey Federation (NWTF).
The following four new turkey vests possess a plethora of solutions to help turkey hunters become more lethal and they each do so while supporting the NWTF mission, Save The Habitat. Save The Hunt., by having the NWTF logo embedded within the Mossy Oak Obsession camouflage, covering all of them.
Nomad's Mg
NOMAD Authentic Hunting Apparel recently introduced its new Meleagris gallopavo (Mg) turkey vest. The Mg vest is designed for the turkey hunters who have the utmost passion for the wild turkey (Meleagris gallopavo). With input from hunters, guides and professionals across the wild turkey's range, the NOMAD Mg Turkey Vest is engineered from decades of first-hand experience in the turkey woods. Designed to allow you optimum organization of your gear, while providing comfort and ease of mobility on the hunt, the NOMAD Mg Turkey Vest is built by turkey hunters for turkey hunters.
Suggested retail price for the Mg vest is $129.99 and it can be purchased at nomadoutdoor.com.
Banded Turkey Vest
The Banded turkey vest has rip-stop polyester fabric on the main body for abrasion resistance. The straps are made from heavy-strength, military-grade webbing that is light and strong. The memory foam seat is easy to pull up and the built-in decoy/blind back compartment has a large storage capacity. This vest has a pocket for anything you'll need in the turkey woods: flashlight, box call, 2 slate calls, striker, larger gear, knife, cell phone, Thermacell, shoulder rest and diaphragm.
 Suggested retail price for the new Banded turkey vest is $149.99 and is available at banded.com.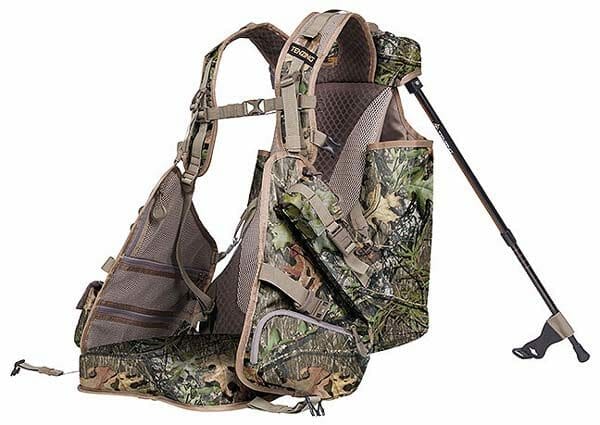 Tenzing TZ TR18
Turkey hunters can set up anywhere when running and gunning or when a fast set-up is needed, all the while staying completely comfortable, with the new TZ TR18 turkey vest from Tenzing. The extendable legs easily store themselves by small hooks on the side of the vest. When the time comes to sit down, a simple pull of the legs is all that is needed and it is ready to be used in the sit-down position. The TZ TR18 keeps calls, shells, decoys and other critical gear secure, quiet and accessible because of its well-designed individual compartments. The material is a tough fabric that lasts, and best of all, it is Tenzing's lightest turkey hunting pack/chair ever, weighing only 5.25 pounds.
The turkey recliner from Tenzing will be available in early spring at tenzingoutdoors.com and other retailers for $219.99.
Alps Outdoorz Impact
The Impact Vest from Alps Outdoorz is a versatile, lightweight, sit-anywhere hunting vest with a flip-out seat that is conveniently built into it. The Impact Vest has numerous pockets for a variety of calls. A removable front pocket features a shoulder strap for run-and-gun style hunts and the seat conveniently folds away or completely detaches when not in use. The Impact Vest also includes a game bag on the back that can hold a couple of decoys and stakes. The Impact Vest provides hunters with all of the convenience of a metal-frame vest while remaining lightweight, weighing in at only 3lbs. 15oz.
The Alps Outdoorz Impact Vest retails for $109.99 and is available at alpsoutdoorz.com.
To learn more about America's no. 1 pattern or to enjoy free, timely and entertaining turkey hunting content, visit www.mossyoak.com.
Nomad Outdoor, Banded, Tenzing, and Alps Outdoorz are officially licensed partners of Haas Outdoors Inc. Haas Outdoors Inc. is headquartered in West Point, Miss., was established in 1986 and is home of Mossy Oak. For more than 30 years, Mossy Oak has been a leading outdoors lifestyle brand that specializes in developing and marketing modern camouflage designs for hunters and outdoors enthusiasts. The Mossy Oak Brand and patterns can be found on a multitude of products worldwide. Haas Outdoors Inc. is the parent company of Mossy Oak, BioLogic, Mossy Oak Productions, MOOSE Media, Nativ Nurseries, Nativ Living, GameKeepers, GameKeepers Kennels and Mossy Oak Properties. Mossy Oak is the official camouflage of the National Wild Turkey Federation, Ducks Unlimited, Quality Deer Management Association and Mack's Prairie Wings and the official pattern of B.A.S.S., MLF and Cabela's Collegiate Bass Fishing Series.
Follow Mossy Oak on Facebook, Twitter, Instagram, Google+, Pinterest and YouTube.