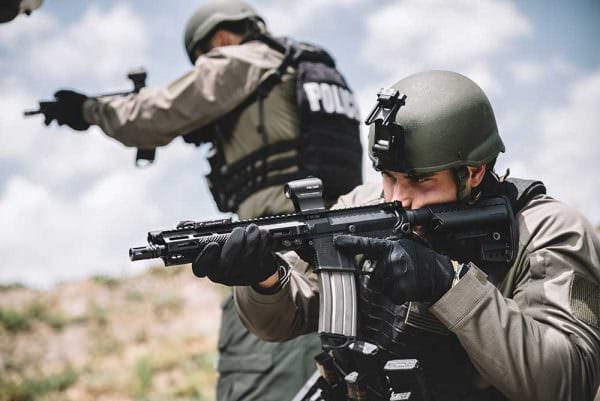 Chandler, AZ. –-(Ammoland.com)- The Sheepdog Survival Fund, a new 501(c)(3) charitable organization, today made its official debut with the announcement of its inaugural fundraising event in Chandler, Arizona. Founded to address a serious unmet need within the law enforcement, first responder and military communities, The Sheepdog Survival Fund helps these professionals accomplish their missions in the safest and most effective manner possible by providing access to advanced training and mission-critical equipment, all at zero cost to the applicants.
"When you put on a uniform to serve and protect, there's a level of responsibility and risk you willingly accept," said Blake Hayes, co-founder of The Sheepdog Survival Fund. "Our law enforcement and first responders must always be at the ready and continuously refining their skillsets in order to protect others, themselves and most importantly, save lives. Refining those skillsets, however, comes at a cost, and in the face of shrinking budgets, the reality is that not all departments can afford to invest in providing such training or even upgrading critical equipment. Filling that gap is our mission and what drives our organization."
Fundraising for The Sheepdog Survival Fund is supported by strategic partnerships with leading brands, such as 5-11 Tactical, Leupold, Gerber, Full Throttle Energy, Crate Club, as well as through tax-free donations from individuals from all walks of life. One of the primary applications of the funds is to provide scholarships for a wide range of training courses, such as basic defensive tactics, instinctive hand-to-hand combat, tactical entry, active shooter response and survival ground combatives. Moreover, The Sheepdog Survival Fund will also help law enforcement further develop mindsets in regards to use of force as well as officer survival, both from a hands-on as well as legal perspective.
To provide training, The Sheepdog Survival Fund has aligned itself with the industry's most respected organizations, such as Sheepdog Response, which boasts some of the most experienced, expert instructors in the world. Renowned for their skills, Sheepdog Response is led by legendary U.S. Army Green Beret and Special Forces Sniper, Tim Kennedy, and retired Special Forces operator and one of the foremost experts in both tactical trauma medicine and combat sports medicine, Dr. Mike Simpson.
"It comes down to experience, training and self-awareness, and to achieve that, our first responders need to be on the range, in the gym, and given the opportunity to train," said Kennedy. "Unfortunately, those opportunities are not presenting themselves and law enforcement is forced to do the best they can with the resources they have. When your life and the lives of others are on the line, that's simply not enough. They need help and we, as a nation, need to step up and answer that call."
2017 marked the second lowest death toll among law enforcement in 50 years, and a drop of 10% from 2016. While those are promising numbers, the stark truth is that nearly 130 police officers did not make it home to their families. Through proper training and outfitting of our first responders with the proper equipment, The Sheepdog Survival Fund and its partners are confident that this trend can and will continue.
Inaugural Fundraising Event
On February 27th, The Sheepdog Survival Fund will host its inaugural fundraising event which will be held at the Alamo Drafthouse in Chandler, Arizona. Known as the coolest theater in America (Wired.com), The Alamo Drafthouse will host a private screening of the film End of Watch. Limited to just 90 seats, this exclusive event will be donation driven, with proceeds benefiting the fund and used specifically to provide scholarships to police officers in Arizona to attend the Sheepdog Response Spectrum of Tactical Emergency Care (SOTEC) course.
In addition, in memory of Tempe Fire Department Captain, Kyle Brayer, who was tragically murdered while off-duty, The Sheepdog Survival Fund will be opening a scholarship in his name, for a firefighter to attend the SOTEC training. Applicants can find more information about the course at SheepdogFund.org. Reservations for the inaugural fundraising event are available now and are open to guests 18 years and older. Doors for the event open at 6:00 PM MST with the film presentation beginning at 7:00 PM MST.
For additional information regarding The Sheepdog Survival fund please visit here.
---
About The Sheepdog Survival Fund
The Sheepdog Survival Fund is a 501(c)(3) comprised entirely of volunteers which raises money to help law enforcement, military, and other first responders access the best training and equipment possible. The Sheepdog Survival Fund positions these professionals for the best possible outcomes so they can successfully and safely complete their missions and serve and protect their communities to the best of their abilities. The goal is to make this training and equipment available at no cost, courtesy of tax-free donations from its nationwide network of supporters and partners.