GRINNELL, Iowa –-(Ammoland.com)- Brownells is proud to sponsor John "Tig" Tiegen for 2018, and will host him at various events, as well as highlight him in unique Brownells social media content throughout the year.
Portrayed in the 2016 Michael Bay movie "13 Hours: The Secret Soldiers of Benghazi" Tig is a frequent public speaker and media personality, as well as co-author of the book 13 Hours: The Inside Account of What Really Happened in Benghazi.
The film was based on the book, and both recount the September 11, 2012, attack that killed Ambassador J. Christopher Stevens, Information Officer Sean Smith, and two CIA operatives, Glen Doherty and Tyrone Woods, both former Navy SEALs.
Tig will appear at the Brownells booth during the 2018 NRA Annual Meetings in Dallas, Texas, in May, as well as at the Kansas City-based Outlaw Cigar Company's "ATF Bash" featuring Drew Estate, Brownells and Cigars and Guns (@cigarsandguns) in September.
"As an avid shooter, I am honored to become part of the Brownells family with an unparalleled reputation for quality and the best service," said John "Tig" Tiegen. "I look forward to working with the entire Brownells family over the next year, and showing the gun world everything that is best in class through Brownells."
Tig and wife Margaret founded Beyond the Battlefield The Tiegen Foundation, a 501(c)(3) non-profit devoted to helping wounded veterans with rehabilitation, reintegration and healing.
"Brownells has always backed those who put on a uniform and serve America," said Brownells CEO Pete Brownell. "We applaud Tig and Margaret's efforts to help our veterans, and are happy to help support their goals."
Tig served in the USMC and then undertook a career as a private security contractor, spending time in Afghanistan, Pakistan and Iraq.
Later, he joined the CIA's Global Response Staff, conducting low-profile security in high-threat environments – his job at the time of the attack on the US diplomatic compound in Benghazi.
Greatly outnumbered, Tig and his fellow security personnel held off repeated terrorist attacks on the compound for 13 hours, and helped to evacuate more than 30 Americans from the scene.
---
About Beyond the Battlefield The Tiegen Foundation
Beyond the Battlefield The Tiegen Foundation® is a 501(c)(3) non-profit organization dedicated to our wounded veterans. Our mission is to provide support for wounded veterans as they face the many challenges encountered during their rehabilitation, reintegration and healing process. Often when our veterans return from their tours of service, the tolls of war are too great to bear alone. We leave no service member behind and work diligently and continuously to help prevent veteran suicide. By including wounded members in various Foundation-sponsored events we aim to motivate, encourage and afford them opportunities they might not otherwise have had. The Foundation's focus is to lift their spirits while reminding them that there is more Beyond the Battlefield and their sacrifices will never be forgotten. For more information on how you can support the mission, please go to www.thetiegenfoundation.org.
About Brownells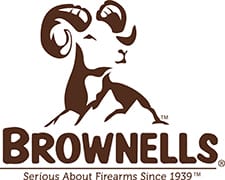 Serious About Firearms Since 1939, Brownells is the world's leading source for guns, gun parts and accessories, ammunition, gunsmithing tools and survival gear. With a large selection of both common and hard-to-find items, and an extensive collection of videos, articles, and gun schematics, Brownells is the expert for everything shooting-related. Committed to maintaining our great traditions, Brownells has more, does more and knows more – and guarantees it all, Forever. For more information or to place an order, call 800-741-0015 or visit Brownells.com. Stay up-to-date with Brownells on YouTube, Facebook, Twitter and Instagram.