 U.S.A. –-(Ammoland.com)- Gary Taylor (Division Chief, ATF Import Branch) and Desiree Dickinson (Programs Manager, ATF Import Branch) will address Federal Firearms Licensees including those who import regulated firearms and firearms components at the upcoming Firearms Industry Compliance Conference (FICC).
This session, to be held on May 17, will provide licensees with information pertaining to ATF Import Regulations, Import Forms 6 / 6a and discuss its role along-side Customs and Border Protection (CBP). Content will be drawn from the ATF Guidebook on the "Importation & Verification of Firearms, Ammunition and Implements of War."
FFLs who are interested in learning more about the FICC, hosted by Orchid Advisors and NSSF, can learn more by visiting the conference website at www.ficconference.com.
Early Bird Pricing ends next Thursday, 4/26/2018. Register today and lock in the lowest conference rates available!
---
About the Firearms Industry Compliance Conference
Orchid Advisors and the National Shooting Sports Foundation bring you the 5th Annual Firearms Industry Compliance Conference. Discounted access is available for NSSF members. Due to the limited seating capacity, registration is on a first come, first serve basis. Register today!
Limited sponsorship levels are available. Please contact Chris Tatulli, NSSF Director, Exhibit and Sponsorship Sales, at [email protected] or (203) 426-1320 ext. 214 for more information.
---
About Orchid Advisors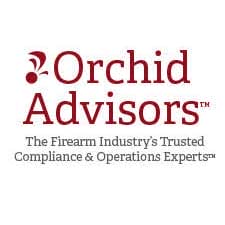 Orchid Advisors provides ATF and ITAR compliance services to manufacturing, distribution and retail FFLs. The firm offers FFL and Export licensing, deep record inspections, e4473 / NFA eForms and Electronic Bound Book software. In conjunction with NSSF, Orchid Advisors hosts the Firearm Industry Compliance Conference and operates the largest online ATF and ITAR compliance training platform available. Orchid Advisors' unique staff of former firearm industry attorneys, former ATF, compliance professionals, and software executives are passionate about eliminating FFL compliance risk. Visit orchidadvisors.com today.
About NSSF
The National Shooting Sports Foundation is the trade association for the firearms, ammunition, hunting and shooting sports industry. Its mission is to promote, protect and preserve hunting and the shooting sports. Formed in 1961, NSSF has a membership of more than 12,000 manufacturers, distributors, firearms retailers, shooting ranges, sportsmen's organizations and publishers.