Tom reviews the Forschner 5-Inch Boning Knives.
USA – -(Ammoland.com)- Last week I recommended using a 6-inch Forschner boning knife for all of your big game boning needs. I ended by saying that there were arguments even among the best goners as to if a stiff, semi-flex or a flexible boning knife was the best way to go. Ha, now I'm going to further complicate the "Perfect boning knife" issue and bring up another choice.
Forschner 5-Inch Boning Knives
A few decades ago a 5-inch boning knife became popular for certain boning jobs such as chuck boners and Rib boners. I still favor a 6-inch knife but I can understand their position, especially on Chucks.
I argue for a 6-inch but in all actuality, I like well-worn 6-inch which means it has been sharpened so much that it is really only about 5 ½-inches long. So, you could argue that I really favor a 5-inch knife for boning chucks.
The 5-inch knife comes in two options-stiff and flexible. If you decide to go with a 5-inch knife then I'd strongly recommend a flexible blade. With the shorter blade if you don't get a flexible blade then your knife will just be too stiff to deftly work around the bones.
So here will be the two options for you in the Forschner 5-inch boning knife.
Both of the above knives come with wood handles, which as I stated last week are a lot better handles to work with than the modern plastic handles on the market. Plus, I think they look better.
Once again, I want to caution you toward buying a 6-inch boning knife for your outdoor needs. Here's why. Can you bone your big game with a 5-inch blade? Sure you can. And on some of the cuts it may actually be better. Especially on deer and antelope but overall the 6-inch is just more versatile. Especially when you consider that you'll also be filleting fish with it. A longer blade just does a better job on fish.
While on the topic of filleting fish. Somewhere along the way everyone has been convinced that you need a super duper flexible knife to be able to adequately do the job. Not so. A flexible boning knife is perfect. Granted on the coast you see the guides using long, super flexible knives when filleting halibut etc. but I argue that for fresh water fish a 6-inch boning knife is great.
We need to wrap up on a topic that I didn't get to cover last week in the article on 6-inch boning knives but will apply for both the 5 & 6-inch versions. There's no argument that these are the go-to knives for boning big game BUT one major problem is that they are wicked sharp and dangerous to carry.
I used to go to my local leather shop and have them make me a rinky dink leather scabbard to carry them in but if it was in my backpack and I took a tumble down the mountain it could easily have poked through my backpack and into me. In good elk country I'll fall 8-10 times/wk. and 1-2 times will be a hard fall. They live in steep rugged country. I just took a bad tumble mushroom hunting this spring and my hand is still broke as I type.
And it's no better if you carry them in your saddlebag. If a horse blows up or falls down, him or you may get a bad stabbing. In the mountains it's nothing for a horse to slip and fall or even blow up when spooked.
Well, there's an answer to the above problem. A few years ago I discovered that Forschner makes what I call a clam-shell scabbard. It is a plastic scabbard and hinged on one side. It snaps over your blade and has rubber stoppers so it clings to the blade. I believe you should be safe in a wreck or at least better shape than with the rinky dink lightweight leather scabbards that I have used in the past.
I'd strongly recommend that you use these scabbards to carry your boning knives. They're the best option that I've found so far.
---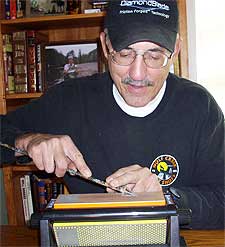 About Tom Claycomb
Tom Claycomb has been an avid hunter/fisherman throughout his life as well as an outdoors writer with outdoor columns in the magazine Hunt Alaska, Bass Pro Shops, Bowhunter.net and freelances for numerous magazines and newspapers. "To properly skin your animal you will need a sharp knife. I have an e-article on Amazon Kindle titled Knife Sharpening for $.99 if you're having trouble"
Disclosure: Some of the links below are affiliate links, meaning at no additional cost to you, Ammoland will earn a commission if you click through and make a purchase.