Tom reviews the CRKT Mossback Fixed Blade Knife.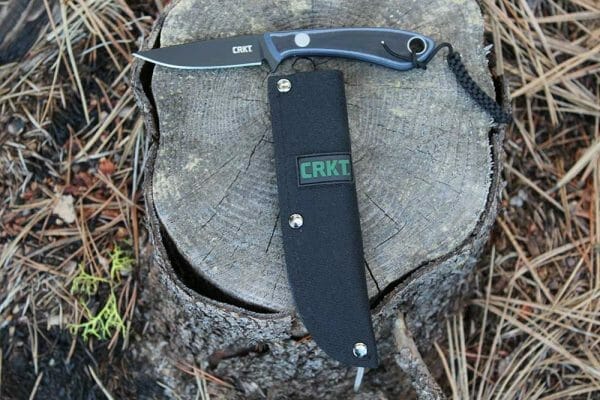 U.S.A. –-(Ammoland.com)- I just received a CRKT (Columbia River Knife & Tool) Mossback. Sometimes I pick up a knife and fall in love with it right away. That's how it was when I pulled the Mossback out of the sheath and I can't exactly tell you why. Maybe it's due to the fact that it is a nice looking, sleek little knife and it surprised me when I pulled it out of the sheath. It's a compact knife even while still in the sheath. So maybe since it is such a small little package that I wasn't expecting much but when I pulled it out of the sheath it caught my breath.
In the sheath, the CRKT Mossback fixed blade knife only measures 7 ¼-inches long, 1 ½-inches wide and ½-inches wide. I love this little knife. The thing only weighs 4.4 ounces.
So besides impressing me with it's looks where does it fit into our outdoor world? I think it'd be a sweet little caping knife. I always preach that a caping knife ought to have a 2 ¼-inch blade. This one is 2 ¾-inches so it's close to the specs that I like. The back of the handle slopes forward which means you can't grip it with your little finger but I'm so impressed with the looks that I can't help but overlook that little flaw.
So to finish on the caping angle. I think it should work great to cape out the heads of your next buck or bull. It should also work great to skin out the feet and toes on your bears. When performing either one of these two tasks you need a sharp pointed, thin blade to do all of the required intricate cuts.
I try to cut all of the bulk and weight in my pack. Where I elk hunt I'm scrambling to climb mountains and sucking wind. Due to the tough terrain, I only carry a skinning knife and a boning knife. But due to the compact size and light weight of the Mossback you could wear it on your belt or throw it in your backpack and I think you're going to forget that you're even carrying it. While typing this article I slapped it on my belt and I can't even tell that I have it on.
A second job that I plan on performing with the CRKT Mossback Fixed Blade Knife is to breast out my birds with it. Ducks, dove, and pigeons. It will be a great little knife for breasting out birds.
Yesterday my wife and I ran up to the mountains to bait for bear and hunt for mushrooms. I hauled in six loads of bait a 1/3 mile each way and was tired by the time I got home. The day before I'd run over to Oregon crappie fishing and boated 179 fish. I finally had to quit, my cooler could not hold one more fish. So, by the time I got home and finished filleting my fish, it was 2:00 a.m. So after being up for 22 hours the day before and hauling bait all afternoon and topping it off with a couple of hours of hunting mushrooms, I was beat.
Katy and I got home and unloaded and I started processing our haul of mushrooms. I had my Mossback handy and whipped it out to clean our haul. I sincerely doubt that the designers at CRKT had cleaning mushrooms in mind when they designed it. But, it worked great. I think I'm going to be carrying this little knife fairly regularly.
CRKT Mossback Fixed Blade Knife SPECS:
Blade Length – 3.193″ (Mine only measures out at 2 ¾-inches)
Blade Edge – Plain
Blade Steel – SK5, 54-56 HRC
Blade Finish – Powder Coat
Blade Thickness – 0.124″ (3.15 mm)
Weight – 4.4 oz (It feels like a feather)
Handle – G10
Style – Fixed Blade Knife w/Sheath
Sheath Material – Nylon webbing
Overall Length – 7.25″ (184.15 mm)
---
About Tom Claycomb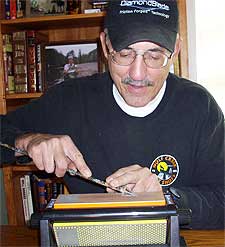 Tom Claycomb has been an avid hunter/fisherman throughout his life as well as an outdoors writer with outdoor columns in the magazine Hunt Alaska, Bass Pro Shops, Bowhunter.net and freelances for numerous magazines and newspapers. "To properly skin your animal you will need a sharp knife. I have an e-article on Amazon Kindle titled Knife Sharpening for $.99 if you're having trouble"
Disclosure: Some of the links below are affiliate links, meaning at no additional cost to you, Ammoland will earn a commission if you click through and make a purchase.